Double Stop Bends
Double Stop Bends - Robert Renman
* Audio file extracted from Robert Renman's website
Double Stop Bends - Robert Renman (4/4 - Key A)

Key A:
-----

   A
    _   _   __   _   _   _   _   _ 
   | | | | |  | | | | | | | | | | |
e|----------------------------------|
B|-----7--(7)br-----5---------------|
G|-----7--(7)br-5---5---------------|
D|----------------7---------7p5-----|
A|------------------------------7---|
E|-5--------------------------------|


*:·..·:*¨¨*:·..·:*¨¨*:·..·:*¨¨*:·..·:*¨¨*:·..·:*¨¨*:·..·:*


Key E (Transposed - Original Key A):
-----

   E
    _   _   __   _   _   _   _   _ 
   | | | | |  | | | | | | | | | | |
e|----------------------------------|
B|-----2--(2)br-----0---------------|
G|-----2--(2)br-0---0---------------|
D|----------------2---------2p0-----|
A|------------------------------2---|
E|-0--------------------------------|
        
Double Stop Bends - Robert Renman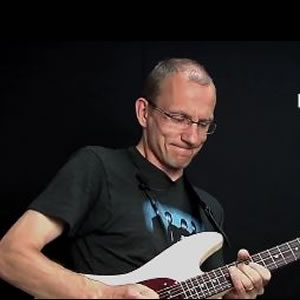 Robert Renman is a guitar teacher and performer in Canada. The Dolphinstreet.com website has many free guitar lessons for you to learn from.
Robert specializes in blues guitar, as well as rock, jazz, funk, roots, blues, country and shred guitar. There are tons of useful and completely free guitar lessons here for you.
Just take a peek around and you will find many guitar lessons you can download in video format, and many also have Guitar Pro files and Tabs available. Most guitar lessons are of intermediate difficulty, although there are definitely quite a number of free guitar lessons for beginners too.
View YouTube Lesson:
http://www.youtube.com/watch?v=rJ0ffL8wvcw&feature=player_embedded
Source: DolphinStreet.com

Double Stop Bends - Robert Renman
Double Stop Bends - Robert Renman
Adder:
Bill Charrette [ willc ]
Date:
1/2/2013
Updated:
3/4/2014
Tab By:
willc
Rated:

(5)

Hot!

Popular!

Views:
1005
pdf Hits:
428
Genre:
Quick Licks