My Guitar Songbook
Help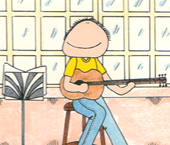 Welcome to My Guitar Songbook - the place where I store and share my collection of guitar songs, favourite websites, online lesson links and other guitar related stuff.
Navigate the site using the top Menu. There you will find links to the Songs, Licks and Member information as well as a Search field and Advanced Search link to help find specific content fast and easy. All Songs are listed in 'sortable' tables or grouped By Genre. And...to spice up solos and improve technique, the All Licks page consists of a stockpile of musical phrases and chord progressions gathered from talented and generous online teachers.
Tap the '

' icon to Preview a Song. Click a Song 'Title' to view Song Details (audio, lyrics, chords, tab and pdf etc.). Select an 'Artist' to display all their compositions or choose a 'Genre' to show songs included in that category.
Most Songs and Licks include an audio file for reference, as well as some information about the author and song. The Song audio files are gathered from my personal music library and the Lick audio clips are extracted from websites offering free guitar lessons. A pdf file is included to save or print the compositions and, if available, a link back to the video or online lesson. For more information see About Us & Disclaimer.
Recently Added Songs
Recently Added Licks