Back in Black
Facebook
Tweet
Digg
Google+
>Email
Back in Black - AC/DC
* Audio file gathered from willc's personal music library
Back in Black - AC/DC (4/4 - Moderate = 95)

    _   _   _   _     _   _   _   _ 
   | | | | | | | |   | | | | | | | |
e|-----------------|-----------------|
B|-----------------|-----------------|
G|-x---x---x---x---|-x---x-----------|
D|-x---x---x---x---|-x---x-----------|
A|-x---x---x---x---|-x---x-----------|
E|-----------------|-----------------|


Intro and Riff played throughout Verses:
---------------------------------------

   E   D       A
    _   _ _ _   _     _   _ _ _   _ __ _
   | | | | | | | |   | | | | | | | |  | |
e|-----------------|-------3-0------------|
B|-----3-3-3-------|-----------3-0--------|
G|-----2-2-2---2-2-|-2-------------2br2p0-|
D|-2---0-0-0---2-2-|-2--------------------|
A|-2-----------0-0-|-0--------------------|
E|-0---------------|----------------------|

   E   D       A
    _   _ _ _   _     _   _ _   _ _   _
   | | | | | | | |   | | | | | | | | | |
e|-----------------|---------------------|
B|-----3-3-3-------|---------------------|
G|-----2-2-2---2-2-|-2-------------------|
D|-2---0-0-0---2-2-|-2-------------------|
A|-2-----------0-0-|-0---2---2---2---2---|
E|-0---------------|-------4---5---6---7-|


Intro: [2x]


Verse 1:
-------

E              D                  A
Back in black    I hit the sack,   I've been too long, I'm glad to be 
               E           D                   A
Back, yes,I'm     let loose    from the noose,     That's kept me hangin' 
              E                    D                        A
about. I keep lookin' at the sky 'cause it's gettin' me high.  Forget the 
                                    E               D             A
Hearse 'cause I'll never die. I got   nine lives,     cat's eyes, Abusin' 

Ev'ry one of them and runnin' wild.  'Cause I'm


Chorus:
------

      A E  B A  B      A E  B A  B      G D  A G  A      G D  A G  A 
    __   __   __     __   __   __     __   __   __     __   __   __
   |  | |  | |  |   |  | |  | |  |   |  | |  | |  |   |  | |  | |  |
e|----------------|----------------|----x-x---------|----x-x---------|
B|----------------|----------------|----3-3---------|----3-3---------|
G|----2----4-4--4-|(4)-2----4-4--4-|(4)-0-2--2----2-|(2)-0-2--2----2-|
D|----2-2--4-4--4-|(4)-2-2--4-4--4-|(4)-0-0--2----2-|(2)-0-0--2----2-|
A|----0-2--2-0--2-|(2)-0-2--2-0--2-|(2)-x----0----0-|(0)-x----0----0-|
E|------0---------|------0---------|----3------3b---|----3------3b---|
 back,  yes I'm  back.        Well I'm back       yes  I'm   back 

      A E  B A  B      A E  B A  B   G                D
    __   __   __     __   __   __     __   __   __     __   __   __
   |  | |  | |  |   |  | |  | |  |   |  | |  | |  |   |  | |  | |  |
e|----------------|----------------|-3--3-3---------|-2--2-2---------|
B|----------------|----------------|-3--3-3---------|-3--3-2---------|
G|----2----4-4--4-|(4)-2----4-4--4-|-0--0-2---------|-2--2-2---------|
D|----2-2--4-4--4-|(4)-2-2--4-4--4-|-0--0-0---------|-0--0-0---------|
A|----0-2--2-0--2-|(2)-0-2--2-0--2-|-x--x-x---------|----------------|
E|------0---------|------0---------|-3--3-3---------|----------------|
   well I'm  back     back well I'm back in black, yes, I'm back in black


Verse 2:
-------

E              D                  A
Back in the back of a Cadillac. Number one with a bullet I'm a power 
               E           D                   A
Pack. Yes, I'm  in a bang with a gang.  They gotta catch me if they 
              E                    D                        A
Want me to hang. Cause I'm back on the track, and I'm beatin' the flack. 
                                    E               D             A
Nobody's gonna get me on another rap. So,look at me now,I'm just makin, my 

Play, don't try to push your luck, just get out of my way. Cause I'm


Chorus:
------

      A E  B A  B      A E  B A  B      G D  A G  A      G D  A G  A 
    __   __   __     __   __   __     __   __   __     __   __   __
   |  | |  | |  |   |  | |  | |  |   |  | |  | |  |   |  | |  | |  |
e|----------------|----------------|----x-x---------|----x-x---------|
B|----------------|----------------|----3-3---------|----3-3---------|
G|----2----4-4--4-|(4)-2----4-4--4-|(4)-0-2--2----2-|(2)-0-2--2----2-|
D|----2-2--4-4--4-|(4)-2-2--4-4--4-|(4)-0-0--2----2-|(2)-0-0--2----2-|
A|----0-2--2-0--2-|(2)-0-2--2-0--2-|(2)-x----0----0-|(0)-x----0----0-|
E|------0---------|------0---------|----3------3b---|----3------3b---|
 back,  yes I'm  back.        Well I'm back       yes  I'm   back 

      A E  B A  B      A E  B A  B   G                D
    __   __   __     __   __   __     __   __   __     __   __   __
   |  | |  | |  |   |  | |  | |  |   |  | |  | |  |   |  | |  | |  |
e|----------------|----------------|-3--3-3---------|-2--2-2---------|
B|----------------|----------------|-3--3-3---------|-3--3-2---------|
G|----2----4-4--4-|(4)-2----4-4--4-|-0--0-2---------|-2--2-2---------|
D|----2-2--4-4--4-|(4)-2-2--4-4--4-|-0--0-0---------|-0--0-0---------|
A|----0-2--2-0--2-|(2)-0-2--2-0--2-|-x--x-x---------|----------------|
E|------0---------|------0---------|-3--3-3---------|----------------|
   well I'm  back     back well I'm back in black, yes, I'm back in black


Rythum Guitar at Solo:
---------------------

  _   _ _   _ _   _ _   _ _   _ _     _ _   _ _   _ _   _
   | | | | | | | | | | | | | | | |   | | | | | | | | | |
e|---------------------------------|---------------------|
B|---------------------------------|---------------------|
G|---------------------------------|---------------2---2-|
D|-2---------------2-----2-----2---|-------------2-2-2-2-| [4x]
A|-2---5-----4-----2-----2-----2---|---5-----4---2-0-2-0-|
E|-0-0---0-0---0-0---0-0---0-0---0-|-0---0-0---0-0---0---|


Chorus:
------

      A E  B A  B      A E  B A  B      G D  A G  A      G D  A G  A 
    __   __   __     __   __   __     __   __   __     __   __   __
   |  | |  | |  |   |  | |  | |  |   |  | |  | |  |   |  | |  | |  |
e|----------------|----------------|----x-x---------|----x-x---------|
B|----------------|----------------|----3-3---------|----3-3---------|
G|----2----4-4--4-|(4)-2----4-4--4-|(4)-0-2--2----2-|(2)-0-2--2----2-|
D|----2-2--4-4--4-|(4)-2-2--4-4--4-|(4)-0-0--2----2-|(2)-0-0--2----2-|
A|----0-2--2-0--2-|(2)-0-2--2-0--2-|(2)-x----0----0-|(0)-x----0----0-|
E|------0---------|------0---------|----3------3b---|----3------3b---|
 back,  yes I'm  back.        Well I'm back       yes  I'm   back 

      A E  B A  B      A E  B A  B   G                 D
    __   __   __     __   __   __     __   __   __     __   __   __
   |  | |  | |  |   |  | |  | |  |   |  | |  | |  |   |  | |  | |  |
e|----------------|----------------|-3--3-3---------|-2--2-2---------|
B|----------------|----------------|-3--3-3---------|-3--3-2---------|
G|----2----4-4--4-|(4)-2----4-4--4-|-0--0-2---------|-2--2-2---------|
D|----2-2--4-4--4-|(4)-2-2--4-4--4-|-0--0-0---------|-0--0-0---------|
A|----0-2--2-0--2-|(2)-0-2--2-0--2-|-x--x-x---------|----------------|
E|------0---------|------0---------|-3--3-3---------|----------------|
   well I'm  back     back well I'm back in black, yes, I'm back in black


Bridge:
------
    _ _ _   _ _  
   | | | | | | | | | | | |
e|-------------------------|      
B|-------------------------|      
G|-------------------------| [4x] 
D|-------------------------|      
A|---5-4-2-4---2---2---2---|      
E|-0---------3b--5---6---7-|      
    _ _ _   _ _  
   | | | | | | | | | | | |
e|-------------------------|
B|-------------------------|
G|-------------------------| [2x]
D|---5-4-2-4---2---2---2---|
A|-0---------3---5---6---7-|
E|-------------------------|
    _ _ _   _ _  
   | | | | | | | | | | | |
e|-------------------------|
B|-------------------------|
G|-------------------------| [2x]
D|-------------------------|
A|---5-4-2-4---2---2---2---|
E|-0---------3---5---6---7-|


Chorus:
------

      A E  B A  B      A E  B A  B      G D  A G  A      G D  A G  A 
    __   __   __     __   __   __     __   __   __     __   __   __
   |  | |  | |  |   |  | |  | |  |   |  | |  | |  |   |  | |  | |  |
e|----------------|----------------|----x-x---------|----x-x---------|
B|----------------|----------------|----3-3---------|----3-3---------|
G|----2----4-4--4-|(4)-2----4-4--4-|(4)-0-2--2----2-|(2)-0-2--2----2-|
D|----2-2--4-4--4-|(4)-2-2--4-4--4-|(4)-0-0--2----2-|(2)-0-0--2----2-|
A|----0-2--2-0--2-|(2)-0-2--2-0--2-|(2)-x----0----0-|(0)-x----0----0-|
E|------0---------|------0---------|----3------3b---|----3------3b---|
 back,  yes I'm  back.        Well I'm back       yes  I'm   back 

      A E  B A  B      A E  B A  B   G                 D
    __   __   __     __   __   __     __   __   __     __   __   __
   |  | |  | |  |   |  | |  | |  |   |  | |  | |  |   |  | |  | |  |
e|----------------|----------------|-3--3-3---------|-2--2-2---------|
B|----------------|----------------|-3--3-3---------|-3--3-2---------|
G|----2----4-4--4-|(4)-2----4-4--4-|-0--0-2---------|-2--2-2---------|
D|----2-2--4-4--4-|(4)-2-2--4-4--4-|-0--0-0---------|-0--0-0---------|
A|----0-2--2-0--2-|(2)-0-2--2-0--2-|-x--x-x---------|----------------|
E|------0---------|------0---------|-3--3-3---------|----------------|
   well I'm  back     back well I'm back in black, yes, I'm back in black


Rythum Guitar at 2nd Solo:
-------------------------

      _ _   _ _   _ _   _ _   _ _     _ _   _ _   _ _   
   | | | | | | | | | | | | | | | |   | | | | | | | | | |
e|---------------------------------|---------------------|
B|---------------------------------|---------------------|
G|---------------------------------|---------------2---2-|
D|-2---------------2-----2-----2---|-------------2-2-2-2-| [4x fade out]
A|-2---5-----4-----2-----2-----2---|---5-----4---2-0-2-0-|
E|-0-0---0-0---0-0---0-0---0-0---0-|-0---0-0---0-0---0---|
        
Back in Black - AC/DC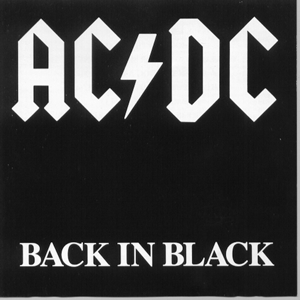 Back in Black is an album by Australian hard rock band AC/DC. It is the seventh Australian and sixth internationally released studio album by the band.
Released on 25 July 1980, Back in Black was the first AC/DC album recorded without former lead singer Bon Scott, who died on 19 February 1980 at the age of 33, and was dedicated to him. The band considered disbanding following Scott's death, but they ultimately decided to continue, with encouragement from Scott's parents, and shortly thereafter hired Brian Johnson as their new lead singer and lyricist. Producer Robert John "Mutt" Lange, who had previously worked with AC/DC on Highway to Hell, was again brought in to produce. The album was recorded at Compass Point Studios in Nassau, Bahamas, and Electric Lady Studios in New York, where the album was also mixed.
The album was recorded at Compass Point Studios in The Bahamas. It was not easy for the band, as their equipment was initially held up by customs, and the island was overcome with tropical storms that wreaked havoc on the studio's electricity. Johnson reported having trouble adjusting to the environment, and even referenced the bad weather on the opening lines of "Hells Bells" ("I'm rolling thunder, pourin' rain. I'm comin' on like a hurricane. My lightning's flashing across the sky. You're only young but you're gonna die.").
Back in Black - AC/DC
Adder:
Bill Charrette [ willc ]
Date:
12/14/2012
Updated:
4/6/2020
Tab By:
willc
Rated:

(2)

Hot!

Popular!

Views:
1209
pdf Hits:
463
Genre:
Rock