For What Its Worth
For What Its Worth - Buffalo Springfield
* Audio file gathered from willc's personal music library
For What Its Worth - Buffalo Springfield (4/4)

Chords:
------

   Dsus2          A7sus4         Asus4
 x o o     o    x o   o   o    x o   o   x
 -----------    -----------    -----------
 | | | | | |    | | | | | |    | | | | | |
 -----------    -----------    -----------
 | | | @ | |    | | @ | | |    | | @ @ | |
 -----------    -----------    -----------
 | | | | @ |    | | | | @ |    | | | | @ |
 -----------    -----------    -----------


Intro/Verse - [Harmonic] Notes and Bass Run:
-------------------------------------------

   E                A7
        __     _         _     _
   |   |  | | | |   |   | | | | |
e|[12]------------|[7]------------|
B|----------------|---------------|
G|----------------|---------------|
D|--------2-------|-------2-------|
A|----2s4-----4-0-|----2s4----4---|
E|----------------|-------------0-|


Verse 1:
-------

E                           A7
There's somethin' happenin' here.
        E                A7
What it is ain't exactly clear.
          E                   A7
There's a man with a gun over there
          E                   A7
A-tellin' me I've got to beware.


Chorus 1:
--------
                    [E              Dsus2]
I think it's time we stop children, what's that sound? 
[A                      Asus4]      E    A    E    A
Everybody look what's goin' down.


Verse 2:
-------

There's battle lines bein' drawn.
Nobody's right if everybody's wrong.
Young people speakin' their minds
A-gettin' so much resistance from behind.


Chorus 2:
-------- 
               E             Dsus2
                       _        ____ 
               |      | |  |   |    |      |
e|-------------0-----------4---2----0---------|
B|-------------0------0h2------------------3--|
G|-------------1------------------------------|
D|-------------2------------------------------|
A|-------------2------------------------------|
E|-------------0------------------------------|
  It's time we stop  hey hey what's that sound

   A                     Asus4
    __          ___ ____       __
   |  |        |   |    |  |  |  |
e|---------------------------------|
B|-2--0----------------------------|
G|-------------2---0----2b-r-(2)p0-|
D|---------------------------------|
A|---------------------------------|
E|---------------------------------|
  Everybody look what's going  down

  E                  A            E                 A
    _     _ _   _                  _     _ _   _
   | | | | | | | |   |   | | |    | | | | | | | |   |  |  |  |
e|-----4-----4---0-|(0)----3-5b-|-----4-----4---0-|(0)-2b-r-p0-|
B|-0h2---0h2---2-2-|(2)s-5------|-0h2---0h2---2-2-|(2)---------|
G|-----------------|------------|-----------------|------------|
D|-----------------|------------|-----------------|------------|
A|-----------------|------------|-----------------|------------|
E|-----------------|------------|-----------------|------------|


Verse 3:
-------

E                           [A      Asus4]
What a field day for the     heat.
E                           [A     A7sus4]
A thousand people in the     street
E                           [A     A7sus4]
Singin' songs and a-carryin' signs
E                           [A     A7sus4]
Mostly sayin' hooray for our side.


Chorus 3:
-------- 
               E              Dsus2
                       _        ____ 
               |      | |  |   |    |      |
e|-------------0-----------4---2----0---------|
B|-------------0------0h2------------------3--|
G|-------------1------------------------------|
D|-------------2------------------------------|
A|-------------2------------------------------|
E|-------------0------------------------------|
  It's time we stop  hey hey what's that sound

   A                     Asus4
    __          ___ ____       __
   |  |        |   |    |  |  |  |
e|---------------------------------|
B|-2--0----------------------------|
G|-------------2---0----2b-r-(2)p0-|
D|---------------------------------|
A|---------------------------------|
E|---------------------------------|
  Everybody look what's going  down

   E               A                E            A
    _                        _ _     __              __   _
   | | |   |   |   |    | | | | |   |  | | | |   |  |  | | | |
e|---3-5b-(-)-(-)|(-)pr-5-5-5-5-3-|-5p-3---3---|---------------|
B|s5-------------|----------------|------5---5-|(-)-3h-5-3-----|
G|---------------|----------------|------------|-----------5-4-|
D|---------------|----------------|------------|---------------|
A|---------------|----------------|------------|---------------|
E|---------------|----------------|------------|---------------|


Verse 4:
-------

   E                 A                     Asus4
                         _   __ __ __    __ __    _ _ _ 
   |                    | | |  |  |  |  |  |  |  | | | |
e|-0---------------|-0-----------------------------------|
B|-0---------------|-2-----------------------------------|
G|-1---------------|-2--2-2-2b-2b-2b-2b-2b-2b-2b-2-2-2-2-|
D|-2---------------|-2-----------------------------------|
A|-2---------------|-0-----------------------------------|
E|-0---------------|-------------------------------------|
  Paranoia strikes deep.

   E                              A              Asus4 
                                      __   __   __   __ 
   |                                 |  | |  | |  | |  |
e|-0----------------------------|-0----------------------|
B|-0----------------------------|-2----------------------|
G|-1----------------------------|-2----------------------|
D|-2----------------------------|-2--0h-2-0h-2-0h-2-0h-2-|
A|-2----------------------------|-0----------------------|
E|-0----------------------------|------------------------|
  Into your life it will         creep.

   E                                 A          Asus4 
                                           _   __
   |                                      | | |  |   |
e|-0-------------------------------|-0------3-5b-5b-(5b)-|
B|-0-------------------------------|-2--3s5--------------|
G|-1-------------------------------|-2-------------------|
D|-2-------------------------------|-2-------------------|
A|-2-------------------------------|-0-------------------|
E|-0-------------------------------|---------------------|
  It starts when you're always      afraid.

   E                                    A         Asus4 

   |                                    |     |    |   |  
e|-0----------------------------------|-0---------[7]----|
B|-0----------------------------------|-2----------------|
G|-1----------------------------------|-2----------------|
D|-2----------------------------------|-2----------------|
A|-2----------------------------------|-0----------------|
E|-0----------------------------------|------------------|
  Step out of line, the men come and  take you away


Outro: (4 times)
-----
           [E             Dsus2]
We better stop hey, what's that sound? 
[A                        Asus4]
Everybody look what's goin' down.

(Outro solo played in the 4th and 1st position of the Em pentatonic scale)
        
For What Its Worth - Buffalo Springfield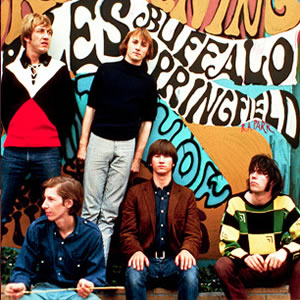 For What It's Worth is a song written by Stephen Stills. It was performed by Buffalo Springfield, recorded on December 5, 1966, and released as a single in January 1967; it was later added to the re-release of their first album, Buffalo Springfield. The single peaked at number seven on the Billboard Hot 100 chart. This song is currently ranked #63 on Rolling Stone's list of The 500 Greatest Songs of All Time as well as the eighth best song of 1966 by Acclaimed Music
The song was inspired by an event at the dawn of the psychedelic era in November 1966, the year during which Buffalo Springfield started playing as the house band at the Whisky a Go Go on the Sunset Strip in Los Angeles. According to the Los Angeles Times, annoyed residents and business owners in the district had encouraged the passage of strict (10:00pm) curfew and loitering laws to reduce the traffic congestion resulting from crowds of young club patrons. This was subsequently perceived by young, local rock music fans as an infringement on their civil rights, and on Saturday, November 12, 1966, fliers were distributed along the Strip inviting people to demonstrate later that day.
Hours before the protest one of L.A's rock 'n' roll radio stations announced there would be a rally at Pandora's Box, a club at the corner of Sunset Boulevard and Crescent Heights, and cautioned people to tread carefully. The Times reported that as many as 1,000 youthful demonstrators, including such celebrities as Jack Nicholson and Peter Fonda (who was afterward handcuffed by police), erupted in protest against the perceived repressive enforcement of these recently invoked curfew laws.
Though often mistaken for an anti-war song, it was this first of the "Sunset Strip riots" which inspired then Buffalo Springfield band member Stephen Stills to write "For What It's Worth", recorded about three weeks after on December 5, 1966.
Robert Plant (later to become the vocalist of rock group Led Zeppelin) recorded the song with his Band of Joy in 1968.
For What It's Worth Backing Track
(MP3)
Source: Wikipedia, The Free Encyclopedia

For What Its Worth - Buffalo Springfield
For What Its Worth - Buffalo Springfield
Adder:
Bill Charrette [ willc ]
Date:
7/17/2012
Updated:
5/28/2020
Tab By:
willc
Rated:

(1)

Hot!

Popular!

Views:
1132
pdf Hits:
431
Genre:
Rock