Substitute
Substitute - The Who
* Audio file gathered from BigGreenC's personal music library
Substitute - The Who (4/4)

Introduction: D  A  G  D   (4 times) 


D            G                  D       D
You think we look pretty good together
D            G                 D        D
You think my shoes are made of leather


          Em             Em
But I'm a substitute for another guy
  Em                      Em
I look pretty tall but my heels are high
  Em                              Em
The simple things you see are all complicated
  Em                             Em          A      A
I look pretty young but I'm just back-dated yeah


D     A    G        D 
Substitute lies for fact
D              A            G       D 
I can see right through your plastic mac
D          A            G         D 
I look all white, but my dad was black
D               A              G           D(hold)
My fine-looking suit is really made out of sack


I was born with a plastic spoon in my mouth
The north side of my house faced east and the east was facing south

Now you dare to look me in the eye
Those crocodile tears are what you cry
It's a genuine problem you won't try
To work it out at all you just pass it by, pass it by

Substitute me for him 
Substitute my coke for gin
Substitute you for my mum
At least I'll get my washing done

But I'm a substitute for another guy
I look pretty tall but my heels are high
The simple things you see are all complicated
I look pretty young but I'm just back dated yeah


Break: D  A  G  D   (4 times)


I was born with a plastic spoon in my mouth
North side of my town faced east and the east was facing south

And now you dare to look me in the eye
But crocodile tears are what you cry
If it's a genuine problem you won't try
To work it out at all, just pass it by, pass it by


Substitute me for him
Substitute my coke for gin
Substitute you for my mum
At least I'll get my washing done

Substitute lies for fact
I can see right through your plastic mac
I look all white but my dad was black
My fine looking suit's really made out of sack
        
Substitute - The Who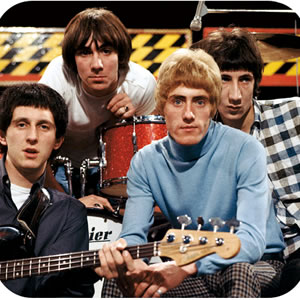 Substitute is a song by The Who written by Pete Townshend. It was released as a single in March 1966, when it reached #5 in the UK, and was later included on the compilation album Meaty Beaty Big and Bouncy in 1971. It became a UK top ten hit again when re-issued in 1976, reaching #7.
The concept for the song was supposedly originally inspired by Townshend's idea that The Who were a 'substitute' for The Rolling Stones (Townshend had been particularly impressed by The Stones' hit "(I Can't Get No) Satisfaction" and was determined to come up with a memorable riff in response), though it was later described as a comment about the blurring between image and reality.
The title was also inspired by Townshend's admiration of The Miracles' 1965 song, "The Tracks of My Tears", in particular, writer Smokey Robinson's use of the word "substitute" in one of the verses: "Although she may be cute / She's just a substitute / Because you're the permanent one."
The song is notable not just for the lyrics, but also John Entwistle's bass riff (reportedly Entwistle turned his bass as high as possible for the recording, without the band's knowledge). A closer inspection of this riff, which occurs in the middle instrumental part of the song, reveals a strong similarity between it and Paul McCartney's bass line in "I Saw Her Standing There", both rhythmically and harmonically.
In an appearance on BBC Radio, Townshend stated that "Substitute" simply "was about nothing" and it "had no hidden meaning".
Source: Wikipedia, The Free Encyclopedia

Substitute - The Who
Adder:
Cindy Green [ BigGreenC ]
Date:
7/17/2012
Tab By:
N/A
Rated:

(3)

Hot!

Popular!

Views:
1142
pdf Hits:
492
Genre:
Rock