We Gotta Get Out of the Place
We Gotta Get Out of the Place - The Animals
* Audio file gathered from BigGreenC's personal music library
We Gotta Get Out of the Place - The Animals (4/4)

Bass Riff:
    _   _   _   _
   |   | | | | | |
e|-----------------|
B|-----------------|
G|-----------------|
D|-----------------|
A|-3-----3-1-0-----|
E|-----3-------3-1-|


In this dirty old part of the city
Where the sun refuse to shine
People tell me there ain't no use in tryin'

A#  B  C
      Now my girl you're so young and pretty
A#  B  C
      And one thing I know is true
A#  B  C                            A#  B  C
      You'll be dead before your time is due, I know
A#  B  C
      Watch my daddy in bed a-dying
A#  B  C
      Watch his hair been turning grey
A#  B  C                            A# B C
      He's been working an slavin his life away, oh yes I know


A#  B  C
     (Work...) He's been workin so hard
A#  B  C
     (Work...) I've been workin too baby
A#  B  C
    (Work...) Every night and day
A#  B  C                 C
    Yeah yeah yeah yeah


F            A#          C
We gotta get out of this place
F                         G    C
If it's the last thing we ever do
F            A#          C
We gotta get out of this place
Dm                    Dm
Girl there's a better life for me and you


[F  Eb  A#  C] (2 times)


Now my girl you're so young and pretty
And one thing I know is true
You'll be dead before your time is due, I know it

Watch my daddy in bed a-dying
Watch his hair been turning grey
He's been working an slavin his life away, I know he's been workin' so hard

(Work...) I been workin' too hard..
(Work...) Every day baby..
(Work...) whoooaaa...
(yeah, yeah, yeah, yeah.)

We gotta get out of this place
If it's the last thing we ever do
We gotta get out of this Place
Girl there's a better life for me and you


[F  Eb  A#  C] (2 times)


We gotta get out of this place
If it's the last thing we ever do
We gotta get out of this place
Girl there's a better life for me and You


[F  Eb  A#  C] (3 times)
        
We Gotta Get Out of the Place - The Animals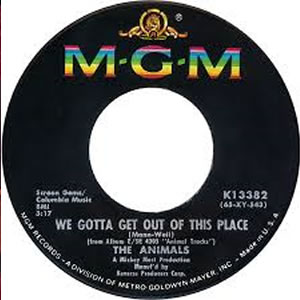 We Gotta Get out of This Place", occasionally written "We've Gotta Get out of This Place", is a rock song written by Barry Mann and Cynthia Weil and recorded as a 1965 hit single by The Animals. It has become an iconic song of its type and was immensely popular among United States Armed Forces during the Vietnam War.
In 2004 it was ranked number 233 on Rolling Stone's The 500 Greatest Songs of All Time list; it is also in The Rock and Roll Hall of Fame's 500 Songs that Shaped Rock and Roll list
Barry Mann and Cynthia Weil were husband and wife (and future Hall of Fame) songwriters associated with the 1960s Brill Building scene in New York City.
"We Gotta Get out of This Place" was written and recorded as a demo by Mann and Weil, with Mann singing and playing piano. It was intended for The Righteous Brothers, for whom they had written the number one hit "You've Lost That Lovin' Feelin'". But then Mann gained a recording contract for himself, and his label Redbird Records wanted him to release it instead. Meanwhile, record executive Allen Klein had heard it and given the demo to Mickie Most, producer for The Animals. Most already had a call out to Brill Building songwriters for material for the group's next recording session (the Animals hits "It's My Life" and "Don't Bring Me Down" came from the same call), and The Animals recorded it before Mann could.
In The Animals' rendition, the lyrics were slightly reordered and reworded from the demo, and opened with a locational allusion – although different from that in the songwriters' minds – that was often taken as fitting the group's industrial, working class Newcastle-upon-Tyne origins:
In this dirty old part of the city
Where the sun refused to shine
People tell me, there ain't no use in tryin'
The arrangement featured a distinctive bass lead. Ubiquitous British session drummer Bobby Graham later stated that he played on the record, not Animals drummer John Steel. It featured one of singer Eric Burdon's typically raw, fierce vocals. Rolling Stone described the overall effect as a "harsh white-blues treatment from the Animals. As [Burdon] put it, 'Whatever suited our attitude, we just bent to our own shape.'"
The song reached number 2 on the UK pop singles chart on August 14, 1965 (held out of the top slot by The Beatles' "Help!"). The following month, it reached number 13 on the U.S. pop singles chart, its highest placement there. In Canada, the song also reached number 2, on September 20, 1965.
Source: Wikipedia, The Free Encyclopedia

We Gotta Get Out of the Place - The Animals
We Gotta Get Out of the Place - The Animals
Adder:
Cindy Green [ BigGreenC ]
Date:
7/14/2012
Updated:
5/2/2015
Tab By:
willc
Rated:

(3)

Hot!

Popular!

Views:
1056
pdf Hits:
506
Genre:
Rock