With or Without You...

[

Info ]
Audio, Chords & Tab

pdf
With or Without You (Fingerstyle) - U2
* Audio file gathered from willc's personal music library
With or Without You (Fingerstyle) - U2 (4/4)

Arranged By: LickN'Riff

Intro:  D, A, Bm, G, D, A, Bm, G
-----

Infinite Guitar:
---------------

   D (10th Fret)
    _ _ _   _ _ _   _ _ _   _ _ _
   | | | | | | | | | | | | | | | |
e|10------10------10------10-------|
B|----10------10------10------10---|
G|------11------11------11------11-|
D|--12------12------12------12-----|
A|---------------------------------|
E|---------------------------------|

Bass Guitar:
-----------

   D                        A
e|------------------------|-----------------|
B|------------------------|-----------------|
G|------------------------|-----------------|
D|------------------------|-----------------|
A|------------------------|-----------------|
E|10-10-10-10-10-10-10-10-|-5-5-5-5-5-5-5-5-|

   Bm                G
e|-----------------|-----------------|
B|-----------------|-----------------|
G|-----------------|-----------------|
D|-----------------|-----------------|
A|-----------------|-----------------|
E|-7-7-7-7-7-7-7-7-|-3-3-3-3-3-3-3-3-|


Verse 1 & 2:
-----------

   D         A           Bm        G
e|---2-2-2-|---0---0-2-|---2-2-2-|---0---0-2-|
B|---------|-----3---3-|---------|-----3---3-|
G|---------|---------4-|---------|---------2-|
D|-0-------|-----------|---------|-----------|
A|---------|-0---------|-2-------|-----------|
E|---------|-----------|---------|-3---------|
1. See the  stone set in your eyes. See the thorn twist in your
2. Sleight of hand and twist of fate On a bed of nails she makes me

   D         A         Bm          G
e|-------5-|---------|-----2-----|-3---------|
B|---3-3---|---------|-----------|-3---------|
G|---------|-----2-4-|-----------|-0---------|
D|-0-------|---------|-----------|-0---------|
A|---------|-0-------|-2---------|-2---------|
E|---------|---------|-----------|-3---------|
1. side  I wait for      you
2. wait And I wait, without you


Chorus 1:
--------

   D             A          Bm       G
e|-------0---2-|---0-0-2-0-|-------|-3-----|
B|-3-3-3-------|-----------|---3---|-3-----|
G|-------------|-----------|-------|-0-----|
D|---------0---|-----------|-------|-0-----|
A|-------------|-0---------|-2-----|-2-----|
E|-------------|-----------|-------|-3-----|
With or without you with or without you,


Verse 3:
-------

   D         A           Bm        G
e|---2-2-2-|---0---0-2-|---2-2-2-|---0---0-2-|
B|---------|-----3---3-|---------|-----3---3-|
G|---------|---------4-|---------|---------2-|
D|-0-------|-----------|---------|-----------|
A|---------|-0---------|-2-------|-----------|
E|---------|-----------|---------|-3---------|
3. Through the storm we reach the shore You give it all but I want

   D         A         Bm          G
e|-------5-|---------|-----2-----|-3---------|
B|---3-3---|---------|-----------|-3---------|
G|---------|-----2-4-|-----------|-0---------|
D|-0-------|---------|-----------|-0---------|
A|---------|-0-------|-2---------|-2---------|
E|---------|---------|-----------|-3---------|
3. more  And I'm waiting for you


Chorus 2:
--------

   D             A          Bm       G
e|-------0---2-|---0-0-2-0-|-------|-3-----|
B|-3-3-3-------|-----------|---3---|-3-----|
G|-------------|-----------|-------|-0-----|
D|---------0---|-----------|-------|-0-----|
A|-------------|-0---------|-2-----|-2-----|
E|-------------|-----------|-------|-3-----|
With or without you with or without you,

   D             A           Bm      G
e|-------0---2-|---0-0-2-0-|-------|-3-----|
B|-3-3-3-------|-----------|---3---|-3-----|
G|-------------|-----------|-------|-0-----|
D|---------0---|-----------|-------|-0-----|
A|-------------|-0---------|-2-----|-2-----|
E|-------------|-----------|-------|-3-----|
I can't live,   with or without you

   D         A         Bm        G (Bridge...)
e|-2-------|-0-------|-2-------|-3---------|
B|-3-------|-2-------|-3-------|-3-----3-3-|
G|-2-------|-2-------|-4-------|-0---------|
D|-0-------|-2-------|-4-------|-0---------|
A|---------|-0-------|-2-------|-2---------|
E|---------|---------|---------|-3---------|


Bridge:
------

   D              A      Bm                 G
e|-0------------|------|-----0------------|-----|
B|------3-3-0-0-|------|-3-3------3-3-0-0-|-----|
G|--------------|---2--|------------------|---2-|
D|---0----------|------|------------------|-----|
A|--------------|-0----|-------2----------|-----|
E|--------------|------|------------------|-3---|
And you give yourself away. And you give yourself away

   D          A          Bm                 G
e|-----0----|-----0----|-----0------------|-----|
B|-3-3------|-3-3------|-3-3------3-3-0-0-|-----|
G|----------|----------|------------------|---2-|
D|-------0--|----------|------------------|-----|
A|----------|-------0--|-------2----------|-----|
E|----------|----------|------------------|-3---|
And you give, and you give. And you give yourself away


Verse 4:
-------

   D         A           Bm        G
e|---2-2-2-|---0---0-2-|---2-2-2-|---0---0-2-|
B|---------|-----3---3-|---------|-----3---3-|
G|---------|---------4-|---------|---------2-|
D|-0-------|-----------|---------|-----------|
A|---------|-0---------|-2-------|-----------|
E|---------|-----------|---------|-3---------|
4. My hands are tied My body bruised, she got me

   D         A         Bm          G (Bridge...)
e|-------5-|---------|-----2-----|-3---------|
B|---3-3---|---------|-----------|-3-----3-3-|
G|---------|-----2-4-|-----------|-0---------|
D|-0-------|---------|-----------|-0---------|
A|---------|-0-------|-2---------|-2---------|
E|---------|---------|-----------|-3---------|
4. with nothing to win and   Nothing left to lose


Bridge:
------

   D              A     Bm               G
e|-0------------|------|-----0------------|-----|
B|------3-3-0-0-|------|-3-3------3-3-0-0-|-----|
G|--------------|---2--|------------------|---2-|
D|---0----------|------|------------------|-----|
A|--------------|-0----|-------2----------|-----|
E|--------------|------|------------------|-3---|
And you give yourself away. And you give yourself away

   D          A         Bm                 G
e|-----0----|-----0----|-----0------------|-----|
B|-3-3------|-3-3------|-3-3------3-3-0-0-|-----|
G|----------|----------|------------------|---2-|
D|-------0--|----------|------------------|-----|
A|----------|-------0--|-------2----------|-----|
E|----------|----------|------------------|-3---|
And you give, and you give. And you give yourself away


Chorus 3:
--------

   D             A          Bm       G
e|-------0---2-|---0-0-2-0-|-------|-3-----|
B|-3-3-3-------|-----------|---3---|-3-----|
G|-------------|-----------|-------|-0-----|
D|---------0---|-----------|-------|-0-----|
A|-------------|-0---------|-2-----|-2-----|
E|-------------|-----------|-------|-3-----|
With or without you with or without you,

   D             A           Bm      G (Solo...)
e|-------0---2-|---0-0-2-0-|-------|-3-------------|
B|-3-3-3-------|-----------|---3---|-3---3---3---3-|
G|-------------|-----------|-------|-0-0---0---0---|
D|---------0---|-----------|-------|-0-------------|
A|-------------|-0---------|-2-----|-2-------------|
E|-------------|-----------|-------|-3-------------|
I can t live,   with or without you


Solo:
----

   D       A                 Bm     G
e|------|-----10---10---10-|------|---------------|
B|-7----|---8----8----8----|-7----|-----3---3---3-|
G|-7----|------------------|-7----|---0---0---0---|
D|----0-|------------------|------|---------------| 7 times
A|------|-0----------------|------|---------------|
E|------|------------------|-7--7-|-3-------------|
Oh, Oh, Oh... (over the D, A, Bm, G progression) 

With or without you
With or without you
I can't live, with or without you
With or without you


Outro:
-----

D, A, Bm, G  (3 times)


   D         A         Bm       G
e|---2-2-2-|---0-0-0-|---2-2-2-|---3-3-3-|
B|---3-3-3-|---3-3-3-|---3-3-3-|---3-3-3-|
G|---2-2-2-|---2-2-2-|---0-0-0-|---0-0-0-| 4 times (fade out)
D|-0-------|---------|---------|---------|
A|---------|-0-------|-2-------|---------|
E|---------|---------|---------|-3-------|
        
With or Without You... - U2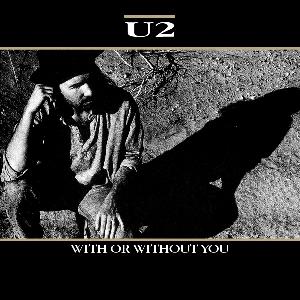 This version of the song is arranged By: Lick'NRiff
If you're looking for an online guitar teacher that is not either trying to sell you something, or just bore you with the same old scales and exercises without giving you REAL INSIGHT about how to actually be CREATIVE with your guitar, then you've found the right place.
Visit
http://www.Lick'N'Riff
for Free Lessons and Tab, Ear Training & Arrangement Courses and Private Arrangements & Transcriptions
******************
"With or Without You" is a song by Irish rock band U2. It is the third track on their fifth studio album, The Joshua Tree (1987), and was released as the album's lead single on 16 March 1987. The song was the group's most successful single at the time, becoming their first number-one hit in both the United States and Canada by topping the Billboard Hot 100 for three weeks and the RPM national singles chart for one week, with a further three weeks at number two.
"With or Without You" features sustained guitar parts played by guitarist the Edge with a prototype of the Infinite Guitar, along with vocals by lead singer Bono and a bassline by bassist Adam Clayton. The song originated from a demo recorded in late 1985 that the group continued to work on throughout The Joshua Tree sessions. Ostensibly a troubled love song, the track's lyrics were inspired by Bono's conflicting feelings about the lives he led as a musician and domestic man.
Source: Wikipedia, the free encyclopedia

With or Without You... - U2
With or Without You... - U2
Adder:
Bill Charrette [ willc ]
Date:
11/3/2019
Updated:
12/27/2019
Tab By:
willc
Rated:

(1)

Hot!

Popular!

Views:
146
pdf Hits:
63
Genre:
Rock