Hanky Panky
Hanky Panky - Tommy James and The Shondells
* Audio file gathered from willc's personal music library
Hanky Panky - Tommy James and The Shondells (4/4)

Verse 1:
-------
                                   _   _
                              | | | | | |
                           A|-------------|
           6th String -->  E|-------0-3-0-|

My baby does the Hanky Panky
A  G    A              G
My baby does the Hanky Panky
D  C    D              C
My baby does the Hanky Panky
A  G    A              G
My baby does the Hanky Panky
E        D                  [A  Ab  A]  E  A (hold)
My baby, does the Hanky Panky

Repeat Verse 1

Verse 2:
-------
                                   _   _
                              | | | | | |
                           A|-------------|
           6th String -->  E|-------0-3-0-|

I saw her walkin' on down the line
A          G               A          G
You know I saw her for the very first time
D               C             D    C
A pretty little girl standin' all alone
A           G           A        G
Hey pretty baby, can I take you home
E        D                  [A  Ab  A]  E  A (hold)
I never saw her, never really saw her

Repeat Verse 1

Solo...

Repeat Verse 2

Repeat Verse 1
        
Hanky Panky - Tommy James and The...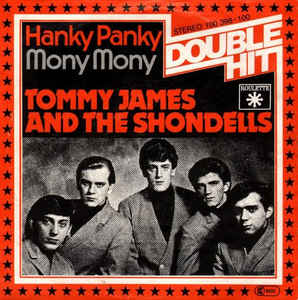 "Hanky Panky" is a song written by Jeff Barry and Ellie Greenwich for their group, The Raindrops. A 1964 recording by The Shondells, later reissued in 1966 under the band's new, and more successful, incarnation of "Tommy James and the Shondells" is the best known version reaching #1 in the United States in 1966.
The lyrics of this song convey the excitement of a hormonal lad driven mad by a girl who knows how to do the suggestive dance of the title, building themselves around the oft-repeated lyrical hook of "My baby does the hanky panky." The music is equally simple and infectious, building itself on simple verse and chorus melodies that bounce up and down in a pleasant, bouncy fashion. James' version is pure garage rock, a live-in-the-studio effort that layered low-slung guitar riffs over a shuffling stomp of a beat from the rhythm section. James topped it off with amusingly mush-mouthed vocals a la "Louie Louie" and an out-of-control guitar solo that is cheered on by the other band members.
Source: Wikipedia, the free encyclopedia

Hanky Panky - Tommy James and The...
Hanky Panky - Tommy James and The...
Adder:
Bill Charrette [ willc ]
Date:
3/29/2018
Tab By:
willc
Rated:

(4)

Hot!

Popular!

Views:
1091
pdf Hits:
401
Genre:
Rock