Stand By Me (Fingerstyle)
Facebook
Tweet
Digg
Google+
>Email
Stand By Me (Fingerstyle) - Assaf Levavy
* Audio file gathered from willc's personal music library
Stand By Me (Fingerstyle) - Assaf Levavy (4/4)

Arranged By: Assaf Levavy (LickN'Riff)

Tablature: [NOTE: Lyrics and Chords below]
---------

Intro:
-----
   C         C         Am        Am
e|---------|---------|---------|---------|
B|---------|---------|---------|---------|
G|---------|---------|---------|---------|
D|---------|---------|---------|---------|
A|-----3-3-|---2-3-3-|-3-2-0-0-|----0-0--|
E|---------|-3-------|---------|--3------|

   F         G         C         C
e|---------|---------|---------|---------|
B|---------|---------|---------|---------|
G|---------|---------|---------|---------|
D|---------|---------|---------|---------|
A|-0-------|---0-----|---2-3-3-|---2-3-3-|
E|---3-1-1-|-1---3-3-|-3-------|-3-------|


Verse: (2 times)
-----
   C           C          Am      Am
e|-0-3s5-----|-0-3------|-------|-----0-----------|
B|-----------|----------|-------|-1h3---3---1-----|
G|-----------|----------|-------|-----------------|
D|-----------|----------|-------|-----------------|
A|-------3-3-|---2--3-3-|-3-2-0-|-0-----------0-0-|
E|-----------|-3--------|-------|---------3-------|

   F               G          C          C
e|-----0---------|---0------|----------|----------|
B|-1-3-----1-----|-1---3----|-1-3-1----|----------|
G|---------------|----------|----------|----------|
D|---------------|----------|----------|----------|
A|-0-------------|---0------|---2-3--3-|---2-3--3-|
E|---3---1---1-1-|-1---3--3-|-3--------|-3--------|


Chorus:
------
   C             C              Am      Am
e|-----5-3-8-7-|-5---0-3------|-------|-----0-----------|
B|-------------|--------------|-------|-1h3---3---1-----|
G|-------------|--------------|-------|-----------------|
D|-------------|--------------|-------|-----------------|
A|---2-3-------|-3-----2--3-3-|-3-2-0-|-0-----------0-0-|
E|-3-------8---|-----3--------|-------|---------3-------|

   F               G          C          C
e|-----0---------|---0------|----------|-------0-----|
B|-1-3-----1-----|-1---3----|-1-3-1----|---------3-1-|
G|---------------|----------|----------|-------------|
D|---------------|----------|----------|-------------|
A|-0-------------|---0------|---2-3--3-|---2-3---3---|
E|---3---1---1-1-|-1---3--3-|-3--------|-3-----------|


*:·..·:*¨¨*:·..·:*¨¨*:·..·:*¨¨*:·..·:*¨¨*:·..·:*¨¨*:·..·:*


Lyrics and Chords:
-----------------

Verse:
-----

         C         C            Am          Am
When the night has come and the land is dark
        F             G              C      C
And the moon is the only light we'll see
     C         C            Am              Am
No I won't be afraid oh I won't be afraid
        F                G           C  C
Just as long as you stand stand by me    So darling darling 


Chorus
------

C        C      Am            Am
Stand by me oh stand by me
   F     G        C           C
Oh stand stand by me stand by me


Verse:
-----

If the sky that we look upon should tumble and fall
Or the mountain should crumble to the sea
I won't cry I won't cry no I won't shed a tear
Just as long as you stand stand by me  And darling darling 

Chorus:
------

Stand by me oh stand by me
Oh stand now stand by me stand by me

Solo: Play Verse
----
                                        So darling darling 

Chorus:
------

Stand by me oh stand by me
Oh stand now stand by me stand by me
                      Whenever you're in trouble would you


Chorus:
------

Stand by me oh stand by me
Oh would stand now oh stand stand by me

Repeat the Chorus (fade out)
        
Stand By Me (Fingerstyle) - Assaf Levavy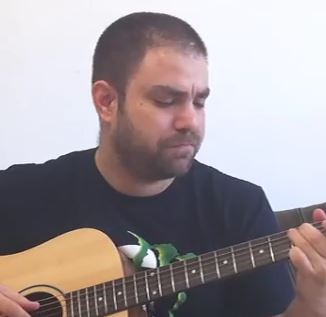 This version of the song is arranged By: Lick'NRiff
If you're looking for an online guitar teacher that is not either trying to sell you something, or just bore you with the same old scales and exercises without giving you REAL INSIGHT about how to actually be CREATIVE with your guitar, then you've found the right place.
Visit Lick'N'Riff -
http://www.licknriff.com/
for Free Lessons and Tab, Ear Training & Arrangement Courses and Private Arrangements & Transcriptions
****************
"Stand by Me" is a song originally performed by American singer-songwriter Ben E. King, written by King, Jerry Leiber and Mike Stoller. According to King, the title is derived and was inspired by a spiritual composition by Sam Cooke called "Stand by Me Father" (although Mike Stoller has stated differently).
There have been over 400 recorded versions of the song performed by many artists. It has been featured on the soundtrack of the 1986 film Stand by Me. A music video was also released to promote the film.
In 2015, King's original version was inducted into the National Recording Registry by the Library of Congress for being "culturally, historically, or aesthetically significant", just under five weeks before his death. Later in the year the 2015 line up of the Drifters recorded it in tribute to him.
Ben E. King Original Version:
Stand by Me (Key A)
Source: Lick'N'Riff

Stand By Me (Fingerstyle) - Assaf Levavy
Stand By Me (Fingerstyle) - Assaf Levavy
Adder:
Bill Charrette [ willc ]
Date:
6/5/2020
Tab By:
willc
Rated:

(11)

Hot!

Popular!

Views:
1293
pdf Hits:
596
Genre:
Rock