Day Tripper
Day Tripper - The Beatles
* Audio file gathered from willc's personal music library
Day Tripper - The Beatles (4/4)

Intro:
-----
    _   _   _   _     _   _   _   _ 
   | | | | | | | |   | | | | | | | |
e|-----------------|-----------------|
B|-----------------|-----------------|
G|-----------------|-----------------| (5 times)
D|-------------2-0-|(0)----4-----0-2-|
A|-----------2-----|-----2-----2-----|
E|-0---3---4-------|-----------------|


Verse 1:
-------

   E
    _   _   _   _     _   _   _   _ 
   | | | | | | | |   | | | | | | | |
e|-----------------|-----------------|
B|-----------------|-----------------|
G|-----------------|-----------------|
D|-------------2-0-|(0)----4-----0-2-|
A|-----------2-----|-----2-----2-----|
E|-0---3---4-------|-----------------| 
  Got a good reason

   E
    _   _   _   _     _   _   _   _ 
   | | | | | | | |   | | | | | | | |
e|-----------------|-----------------|
B|-----------------|-----------------|
G|-----------------|-----------------|
D|-------------2-0-|(0)----4-----0-2-|
A|-----------2-----|-----2-----2-----|
E|-0---3---4-------|-----------------| 
   For taking the easy way out

   A7
    _   _   _   _     _   _   _   _ 
   | | | | | | | |   | | | | | | | |
e|-----------------|-----------------|
B|-----------------|-----------------|
G|-------------2-0-|(0)----4-----0-2-|
D|-----------2-----|-----2-----2-----|
A|-0---3---4-------|-----------------|
E|-----------------|-----------------|
   Got a good reason

   E
    _   _   _   _     _   _   _   _ 
   | | | | | | | |   | | | | | | | |
e|-----------------|-----------------|
B|-----------------|-----------------|
G|-----------------|-----------------|
D|-------------2-0-|(0)----4-----0-2-|
A|-----------2-----|-----2-----2-----|
E|-0---3---4-------|-----------------| 
   For taking the easy way out now


Chorus:
------
           F#7    '     '             '
She was a day tripper, one way ticket yeah!
            A7    G#7
It took me so-o long
         C#7              B7  
To find out, and I found out.


Instrumental:
------------
    _   _   _   _     _   _   _   _ 
   | | | | | | | |   | | | | | | | |
e|-----------------|-----------------|
B|-----------------|-----------------|
G|-----------------|-----------------| (3 times)
D|-------------2-0-|(0)----4-----0-2-|
A|-----------2-----|-----2-----2-----|
E|-0---3---4-------|-----------------|


Verse 2:
-------

She's a big teaser
She took me half the way there
She's a big teaser
She took me half the way there

Chorus


Solo/Bridge:
-----------
    _   _   _   _     _   _   _   _ 
   | | | | | | | |   | | | | | | | |
e|-----------------|-----------------|
B|-----------------|-----------------|
G|-------------9-7-|(7)--------------| (3 times)
D|-----------9-----|------11-----7-9-|
A|-9--10h-11-------|-----9-----9-----|
E|-7---------------|-----------------|
    _   _   _   _      _   _   _   _ 
   | | | | | | | |    | | | | | | | |
e|------------------|-----5-----------|
B|---------3b--3-5b-|(5b)-----5r-(5)--|
G|-4---4-----4------|-----------------|
D|------------------|-----------------|
A|------------------|-----------------|
E|------------------|-----------------|
    _   _   _   _      _   _   _   __ 
   | | | | | | | |    | | | | | | |  |
e|--------10--10-12-|-12b-12--10--------|
B|12--12----12------|-------------12-12-|
G|------------------|-------------------|
D|------------------|-------------------|
A|------------------|-------------------|
E|------------------|-------------------|
    _   _   _   _     _   _   _   _
   | | | | | | | |   | | | | | | | |
e|-----------------|-----------------|
B|-0-0-0-0-0-0-0-0-|-0-0-0-0-0-0-0-0-|
G|-4-4-4-4-4-4-4-4-|-4-4-4-4-4-4-4-4-|
D|-----------------|-----------------|
A|-----------------|-----------------|
E|-----------------|-----------------|


Instrumental:
------------
    _   _   _   _     _   _   _   _ 
   | | | | | | | |   | | | | | | | |
e|-----------------|-----------------|
B|-----------------|-----------------|
G|-----------------|-----------------| (2 times)
D|-------------2-0-|(0)----4-----0-2-|
A|-----------2-----|-----2-----2-----|
E|-0---3---4-------|-----------------|


Verse 3:
-------

Tried to please her
She only played one last hand
Tried to please her
She only played one last hand

Chorus

Outro:
-----
    _   _   _   _     _   _   _   _ 
   | | | | | | | |   | | | | | | | |
e|-----------------|-----------------|
B|-----------------|-----------------|
G|-----------------|-----------------| (4 times)
D|-------------2-0-|(0)----4-----0-2-|
A|-----------2-----|-----2-----2-----|
E|-0---3---4-------|-----------------|
    _   _   _   _     _   _   _   _ 
   | | | | | | | |   | | | | | | | |
e|-----------------|-----------------|
B|-----------------|-----------------|
G|-----------------|-----------------|
D|-------------2-0-|(0)----4-----0-2-|
A|-----------2-----|-----2-----2-----|
E|-0---3---4-------|-----------------|
         Day tripper
    _   _   _   _     _   _   _   _ 
   | | | | | | | |   | | | | | | | |
e|-----------------|-----------------|
B|-----------------|-----------------|
G|-----------------|-----------------|
D|-------------2-0-|(0)----4-----0-2-|
A|-----------2-----|-----2-----2-----|
E|-0---3---4-------|-----------------|
         Day tripper yeah

Day tripper, one way tripper
And I, I found out.
Day tripper, one way tripper
And I, I found out.
Day tripper, one way tripper
And I, I found out.
Day tripper, one way tripper
And I, I found out.
Day tripper, one way tripper
And I, I found out 
        
Day Tripper - The Beatles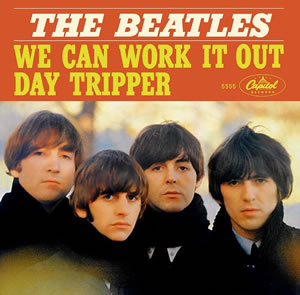 "Day Tripper" is a song by the Beatles, released as a double A-side single with "We Can Work It Out". Both songs were recorded during the sessions for the Rubber Soul album. The single topped the UK Singles Chart and the song peaked at number five on the Billboard Hot 100 chart in January 1966
Under the pressure of needing a new single for the Christmas market, John Lennon wrote much of the music and most of the lyrics, while Paul McCartney worked on the verses.
"Day Tripper" was a typical play on words by Lennon: Day trippers are people who go on a day trip, right? Usually on a ferryboat or something. But [the song] was kind of ... you're just a weekend hippie. Get it?
In the same interview, Lennon said: That's mine. Including the lick, the guitar break and the whole bit.
In his 1970 interview with Rolling Stone, however, Lennon used "Day Tripper" as one example of their collaboration, where one partner had the main idea but the other took up the cause and completed it. For his part, McCartney claimed it was very much a collaboration based on Lennon's original idea.
In 1966 McCartney said to Melody Maker that "Day Tripper" and "Drive My Car" (recorded three days prior) were "funny songs, songs with jokes in."
Source: Wikipedia, The Free Encyclopedia

Day Tripper - The Beatles
Day Tripper - The Beatles
Adder:
Bill Charrette [ willc ]
Date:
10/16/2016
Tab By:
willc
Rated:

(3)

Hot!

Popular!

Views:
1336
pdf Hits:
493
Genre:
Rock