Blackbird
Blackbird - The Beatles
* Audio file gathered from willc's personal music library
Blackbird - The Beatles (3/4, 4/4, 2/4)

[NOTE: Lyrics below]

Intro:
-----
    _   _   _     _   _   _   _     _   _   _   _
   | | | | | |   | | | | | | | |   | | | | | | | |
e|-------------|-----------------|-----------------|
B|-0---1---3---|-12--------12----|-12--------12----|
G|---0---0---0-|-------0---------|-------0---------| (2 times)
D|-------------|-----0-------0---|-----0-------0---|
A|-----0---2---|-10------10------|-10------10------|
E|-3-----------|-----------------|-----------------|

Melody:
------
    _   _   _     _   _   _   _     _   _   _   _
   | | | | | |   | | | | | | | |   | | | | | | | |
e|-------------|-----------------|-----------------|
B|-0---1---3---|-12--------12----|-12--------12----|
G|---0---0---0-|-------0---------|-------0---------|
D|-------------|-----0-------0---|-----0-------0---|
A|-----0---2---|-10------10------|-10------10------|
E|-3-----------|-----------------|-----------------|
   Blackbird...  night

    _   _   _   _     _   _   _   _     _   _   _   _ 
   | | | | | | | |   | | | | | | | |   | | | | | | | |
e|-0---3---2---5---|-3---------3-----|-3---------3-----|
B|-----------------|-------0---------|-------0---------|
G|---0---0---0---0-|-----0-------0---|-----0-------0---|
D|---------0-------|-2-------2-------|-1-------1-------|
A|-3---4-------6---|-----------------|-----------------|
E|-----------------|-----------------|-----------------|
  Take these...     fly

    _   _     _   _   _   _     _   _   _   _
   | | | |   | | | | | | | |   | | | | | | | | 
e|-2---3---|-----------------|-----------------|
B|---------|-5---------5-----|-4---------4-----|
G|---------|-------0---------|-------0---------|
D|-0-------|-----5-------5---|-----5-------5---|
A|-----4---|-3-------3-------|-3-------3-------|
E|---------|-----------------|-----------------|
  All your   life

    _   _   _   _     _   _   _   _     _   _   _   _     _   _   _   _
   | | | | | | | |   | | | | | | | |   | | | | | | | |   | | | | | | | |
e|-----------------|-----------------|-----------------|-----------------|
B|-3---------3-----|-2---------2-----|-1---------1-----|-0---------0-----|
G|-------0---------|-------0---------|-------0---------|-------0---------|
D|-----0-------0---|-----2-------2---|-----2-------2---|-----0-------0---|
A|-2-------2-------|-0-------0-------|-0-------0-------|-----------------|
E|-----------------|-----------------|-----------------|-3-------3-------|
   You were only     waiting for this  moment to         arise

    _   _     _   _   _   _     _   _   _   _     _   _   _   _
   | | | |   | | | | | | | |   | | | | | | | |   | | | | | | | | 
e|---------|-----------------|-----------------|-----------------|
B|-5---3---|-2---------2-----|-1---------1-----|-0---------0-----|
G|---0---0-|-------0---------|-------0---------|-------0---------|
D|---------|-----2-------2---|-----2-------2---|-----0-------0---|
A|-3---2---|-0-------0-------|-0-------0-------|-----------------|
E|---------|-----------------|-----------------|-3-------3-------|

    _   _   _   _     _   _   _   _     _   _   _   _     _   _   _   _
   | | | | | | | |   | | | | | | | |   | | | | | | | |   | | | | | | | |
e|-----------------|-----------------|-----------------|-----------------|
B|-10--8---6---5---|-3---------3-----|-5---------5-----|-10--8---6---5---|
G|---0---0---0---0-|-------0---------|-------0---------|---0---0---0---0-|
D|-----------------|-----3-------3---|-----5-------3---|-----------------|
A|-8---7---5---3---|-1-------1-------|-3-------3-------|-8---7---5---3---|
E|-----------------|-----------------|-----------------|-----------------|
   Blackbird         fly                                 Blackbird

    _   _   _   _     _   _   _   _     _   _   _   _     _   _   _   _
   | | | | | | | |   | | | | | | | |   | | | | | | | |   | | | | | | | |
e|-----------------|-----------------|-----------------|-----------------|
B|-3---------3-----|-2---------2-----|-1---------1-----|-0---------0-----|
G|-------0---------|-------0---------|-------0---------|-------0---------|
D|-----3-------3---|-----2-------2---|-----2-------2---|-----0-------0---|
A|-1-------1-------|-0-------0-------|-0-------0-------|-----------------|
E|-----------------|-----------------|-----------------|-3-------3-------|
   fly               Into the light of a dark black night

    _   _     _   _   _   _     _   _   _   _     _   _   _   _
   | | | |   | | | | | | | |   | | | | | | | |   | | | | | | | | 
e|---------|-----------------|-----------------|-----------------|
B|-5---3---|-2---------2-----|-1---------1-----|-0---------0-----|
G|---0---0-|-------0---------|-------0---------|-------0---------|
D|---------|-----2-------2---|-----2-------2---|-----0-------0---|
A|-3---2---|-0-------0-------|-0-------0-------|-----------------|
E|---------|-----------------|-----------------|-3-------3-------|

    _   _     _   _   _   _     _   _   _   _     _   _   _   _
   | | | |   | | | | | | | |   | | | | | | | |   | | | | | | | | 
e|---------|-----------------|-----------------|-----------------|
B|-5---3---|-2---------2-----|-1---------1-----|-0---------------|
G|---0---0-|-------0---------|-------0---------|-----------------|
D|---------|-----2-------2---|-----2-------2---|-----------------|
A|-3---2---|-0-------0-------|-0-------0-------|-----------------|
E|---------|-----------------|-----------------|-3---------------|

Solo: (1 verse)

Blackbird fly, Blackbird fly
Into the light of a dark black night

    _   _   _     _   _   _   _     _   _   _   _     _   _   _   _
   | | | | | |   | | | | | | | |   | | | | | | | |   | | | | | | | |
e|-------------|-----------------|-----------------|-----------------|
B|-0---1---3---|-12--------12----|-12--------12----|-12--------12----|
G|---0---0---0-|-------0---------|-------0---------|-------0---------|
D|-------------|-----0-------0---|-----0-------0---|-----0-------0---|
A|-----0---2---|-10------10------|-10------10------|-10------10------|
E|-3-----------|-----------------|-----------------|-----------------|

    _   _   _   _     _   _   _   _     _   _   _   _     _   _   _   _
   | | | | | | | |   | | | | | | | |   | | | | | | | |   | | | | | | | |
e|-----------------|-----------------|-----------------|-----------------|
B|-12------12------|-----------------|-0---1---3---5---|-3---2---1---0---|
G|-----------------|-----------------|---0---0---0---0-|---0---0---0---0-|
D|-----0-----------|-----------------|-----------------|-----------------|
A|-10------10------|-----------------|-----0---2---0---|-2---0---0-------|
E|-----------------|-14---slide------|-3---------------|-------------3---|

Blackbird singing in the dead of night
Take these broken wings and learn to fly
All your life,
You were only waiting for this moment to arise

    _   _   _   _     _   _   _   _     _   _   _   _     _   _   _   _
   | | | | | | | |   | | | | | | | |   | | | | | | | |   | | | | | | | |
e|-----------------|-----------------|-----------------|-----------------|
B|-0---1---3---5---|-3---2---1---0---|-0---1---3---5---|-3---2---1---0---|
G|---0---0---0---0-|---0---0---0---0-|---0---0---0---0-|---0---0---0-----|
D|-----------------|-----------------|-----------------|-----------------|
A|-----0---2---0---|-2---0---0-------|-----0---2---0---|-2---0---0-------|
E|-3---------------|-------------3---|-3---------------|-------------3---|

You were only waiting for this moment to arise
You were only waiting for this moment to arise


*:·..·:*¨¨*:·..·:*¨¨*:·..·:*¨¨*:·..·:*¨¨*:·..·:*¨¨*:·..·:*


Blackbird - The Beatles (Lyrics)
-----------------------

Introduction

Blackbird singing in the dead of night
Take these broken wings and learn to fly
All your life,
You were only waiting for this moment to arise

Blackbird singing in the dead of night
Take these sunken eyes and learn to see
All your life,
You were only waiting for this moment to be free

Blackbird fly, Blackbird fly
Into the light of a dark black night

Solo: (1 verse)

Blackbird fly, Blackbird fly
Into the light of a dark black night

Instrumental

Blackbird singing in the dead of night
Take these broken wings and learn to fly
All your life,
You were only waiting for this moment to arise

You were only waiting for this moment to arise
You were only waiting for this moment to arise
        
Blackbird - The Beatles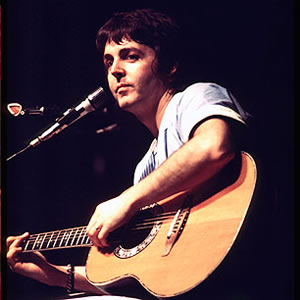 Blackbird is a Beatles song from the double-disc album The Beatles (also known as The White Album). Blackbird was written by Paul McCartney, though credited to Lennon–McCartney.
McCartney explained on Chaos and Creation at Abbey Road, aired in 2005, that the guitar accompaniment for "Blackbird" was inspired by J.S. Bach's Bourrée in E minor, a well known lute piece, often played on the classical guitar.
As children, he and George Harrison tried to learn Bourrée as a "show off" piece. The Bourrée is distinguished by melody and bass notes played simultaneously on the upper and lower strings. McCartney adapted a segment of the Bourrée (reharmonised into the original's relative major key of G) as the opening of "Blackbird," and carried the musical idea throughout the song.
The first night his future wife Linda Eastman stayed at his home, McCartney played "Blackbird" for the fans camped outside his house.
Source: Wikipedia, The Free Encyclopedia

Blackbird - The Beatles
Adder:
Bill Charrette [ willc ]
Date:
7/14/2012
Updated:
5/14/2014
Tab By:
willc
Rated:

(3)

Hot!

Popular!

Views:
1290
pdf Hits:
495
Genre:
Rock