Hang On Sloopy
Facebook
Tweet
Digg
Google+
>Email
Hang On Sloopy - The McCoys
* Audio file gathered from willc's personal music library
Hang On Sloopy - The McCoys (4/4)

Bass Riff
    ___     ___     ___     ___     ___     ___     ___ 
   |   |   |   |   |   |   |   |   |   |   |   |   |   |   |
e|-------------------------------|---------------------------|
B|-------------------------------|---------------------------|
G|-------------------------------|---------------------------|
D|-------------------------------|---------------------------|
A|-----------------3-----------3-|-5-----------5---3---------|
E|-3-----------3-----------------|-------------------------5-|


G  C    D       C           G   C   D   C
Hang on sloopy, sloopy hang on
G  C    D       C           G   C   D   C
Hang on sloopy, sloopy hang on


G      C          D        C       G   C   D   C
Sloopy lives in a very bad part of town
    G   C     D              C             G   C   D   C
and everybody yeah, tries to put my sloopy down
G      C       D               C     G   C   D   C
Sloopy I don't care, what your daddy do
    G        C       D            C         G   C   D   C
Cuz you know sloopy, girl, I'm in love with you         and so I sing out


G  C    D       C           G   C   D   C
Hang on sloopy, sloopy hang on
G  C    D       C           G   C   D   C
Hang on sloopy, sloopy hang on


Sloopy wears a red dress, yeah as old as the hills
But when sloopy wears that red dress, yeah you know it gives me the chills
Sloopy when I see you walking, walking down the street
I say don't worry sloopy, girl you belong to me  and so I sing out


G  C    D       C           G   C   D   C
Hang on sloopy, sloopy hang on
G  C    D       C           G   C   D   C
Hang on sloopy, sloopy hang on


Lead Break...


Sloopy let your hair down, girl let it hang down on me
Sloopy let your hair down, girl let it hang down on me
Come on sloopy (come on, come on). Oh come on sloopy (come on, come on)
Oh come on sloopy (come on, come on). Oh come on sloopy (come on, come on)


Well it feels so good (come on, come on)
you know it feels so good (come on, come on)
well shake it, shake it, shake it sloopy (come on, come on)
G         C         D              C        G      C   D     D     D     D
Shake it, shake it, shake it yeah (come on, come on)  (Scream)


G  C    D       C           G   C   D   C
Hang on sloopy, sloopy hang on
 (yeah) (yeah) (yeah) (yeah)
G  C    D       C           G   C   D   C
Hang on sloopy, sloopy hang on
(yeah) (yeah) (yeah) (yeah) 
G  C    D       C           G   C   D   C
Hang on sloopy, sloopy hang on
        
Hang On Sloopy - The McCoys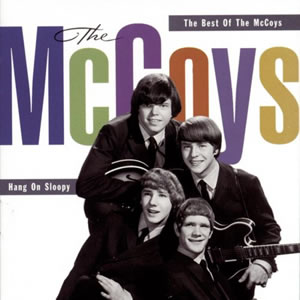 "Hang On Sloopy" is a 1964 song by Wes Farrell and Bert Russell, originally titled "My Girl Sloopy".
It was first recorded by The Vibrations in 1964, for Atlantic Records (45-2222), becoming a top-30 hit. As recorded by the pop group The McCoys, "Hang On Sloopy" went to #1 in the United States in October 1965.
Written by songwriter Bert Berns, this song was originally recorded by the R&B group The Vibrations as "My Girl Sloopy" in 1964, reaching #26 on the US charts.
The name "Sloopy" most likely came from Dorothy Sloop, who was a Jazz singer from Steubenville, Ohio. She performed in the New Orleans area using the name "Sloopy."
Check out the YouTube video:
http://www.youtube.com/watch?v=TlTKhPkZSJo
*:·..·:*¨¨*:·..·:*¨¨*:·..·:*¨¨*:·..·:*¨¨*:·..·:*¨¨*:·..·:*
The McCoys began as the Rick Z Combo (named after lead guitarist Rick Zehringer, who later became Rick Derringer) in Union City, Indiana. They developed a following playing at Forest Park Plaza in Dayton, Ohio. They later became Rick And The Raiders, a group led by guitarist and lead singer Derringer. In 1965, Rick And The Raiders played a Dayton, Ohio concert as the backup band for The Strangeloves, who were a group of producers who wrote the song "I Want Candy" and made up a group for it. In a strange and brilliant marketing move, The Strangeloves claimed they were from Australia and said they were shepherds who got rich by crossbreeding sheep. The Strangeloves - Bob Feldman, Jerry Goldstein and Richard Gottehrer - arranged a recording session with Rick And The Raiders, who changed their name to The McCoys (after a Ventures song), and had them record a version of "My Girl Sloopy" as "Hang On Sloopy." (thanks, Kevin - Port Orchard, WA)
SongFacts.com:
http://www.songfacts.com/detail.php?id=3901
Source: Wikipedia, the free encyclopedia

Hang On Sloopy - The McCoys
Hang On Sloopy - The McCoys
Adder:
Bill Charrette [ willc ]
Date:
4/18/2015
Tab By:
willc
Rated:

(3)

Hot!

Popular!

Views:
1635
pdf Hits:
497
Genre:
Rock