American Woman
American Woman - The Guess Who
* Audio file gathered from willc's personal music library
American Woman - The Guess Who (4/4)

Introduction: 

American woman gonna mess your mind
American woman, she gonna mess your mind
Mm, American woman gonna mess your mind
Mm, American woman gonna mess your mind
Say A, Say M, Say E, Say R, Say I, C, Say A, N, mm
American woman gonna mess your mind
Mm, American woman gonna mess your mind
Uh, American woman gonna mess your mind

Uh!


Main Riff:
---------
       B   D    E                                   B   D
        ___      ___ ___ ___     ___ ___     ___ ___     ___ 
       |   |    |   |   |   |   |   |   |   |   |   |   |   |
e|-----------||-----------------------------------------------|
B|-----4---7-||-----9---9---9---9-------9-----------9---4---7-|
G|-----4---7-||-7s--9---9---9---9---9---9-------7---9---4---7-|
D|-----4---7-||-7s--9---9---9---9---9---9-------7---9---4---7-|
A|-----2---5-||-5s--7---7---7---7---7---7-------5---7---2---5-|
E|-----------||-----0-----------------------------------------|


Main Riff (Lenny Kravitz Style Key E - Transposed - Original Key C):
---------

    ___ ___ ___     ___ ___         ___ ___
   |   |   |   |   |   |   |   |   |   |   |
e|-------------------------------------------|
B|-------------------------------------------|
G|-------------------------------------------|
D|-9---9---9---9---9---7---9---------------5-|
A|-7---7---7---7---7---7---7---------------5-|
E|---------------------------------5h--7-----|

    ___ ___ ___         ___         ___     ___ ___     ___ 
   |   |   |   |   |   |   |   |   |   |   |   |   |   |   |
e|---------------------------------x---x---------------x---x-|
B|---------------------------------x---x---------------x---x-|
G|---------------------------------x---x--12--14--12---x---x-|
D|-9---9---9---9---9---7---9---------------------------------|
A|-7---7---7---7---7---7---7---------------------------------|
E|-----------------------------------------------------------|

( riffriff.com YouTube Lesson: http://www.youtube.com/watch?v=YIwkxjMY7WU )


Lead:
----
            ___     ___             ___ 
   |   |   |   |   |   |   |   |   |   |
e|---------------|-----------------------|
B|---------------|-----------------------|
G|---------9--11-|11S-13-(13)(13)-13S-14-|
D|---------------|-----------------------|
A|---------------|-----------------------|
E|---------------|-----------------------|

    ___             ___ ___ ___         ___ ___ ___ 
   |   |   |   |   |   |   |   |   |   |   |   |   |   |   |
e|-------------------------------|----15----------------------|
B|----------------15-------------|------------14--15-(15)(15)-|
G|14S-16-(16)(16)---------12--13-|(13)----16------------------|
D|--------------------14---------|----------------------------|
A|-------------------------------|----------------------------|
E|-------------------------------|----------------------------|


*:·..·:*¨¨*:·..·:*¨¨*:·..·:*¨¨*:·..·:*¨¨*:·..·:*¨¨*:·..·:*


Lead (on the lower strings - for acoustic guitar):
----
            ___     ___             ___ 
   |   |   |   |   |   |   |   |   |   |
e|---------------|-----------------------|
B|---------------|-----------------------|
G|---------------|-----------------1S--2-|
D|---------2---4-|-4S--6--(6)------------|
A|---------------|-----------------------|
E|---------------|-----------------------|
           E  F#       G#          G#  A

    ___             ___ ___ ___         ___ ___ ___ 
   |   |   |   |   |   |   |   |   |   |   |   |   |   |   |
e|-------------------------------|-----3----------------------|
B|-----------------3-------------|---------0---2---3--(3)-(3)-|
G|-2S--4--(4)-(4)----------0---1-|(1)-------------------------|
D|---------------------2---------|----------------------------|
A|-------------------------------|----------------------------|
E|-------------------------------|----------------------------|
   A   B           D   E   G   G#      G   B   C#  D


*:·..·:*¨¨*:·..·:*¨¨*:·..·:*¨¨*:·..·:*¨¨*:·..·:*¨¨*:·..·:*


American woman, stay away from me
American woman, mama, let me be
Don't come a-hangin' around my door
I don't wanna see your face no more
I got more important things to do
Than spend my time growin' old with you
Now woman, I said stay away
American woman, listen what I say

Lead

American woman, get away from me
American woman, mama, let me be
Don't come a-knockin' around my door
Don't wanna see your shadow no more
Coloured lights can hypnotize
Sparkle someone else's eyes
Now woman, I said get away
American woman, listen what I say, hey

Lead and Solo


Riff 2:
------

    ___ ___ ___     ___ ___     ___     
   |   |   |   |   |   |   |   |   |   |
e|---------------------------------------|
B|-9---9---9---9---9---7---9--(9)--------|
G|-9---9---9---9---9---7---9--(9)--------| (4 times)
D|-9---9---9---9---9---7---9--(9)--------|
A|-7---7---7---7---7---5---7--(7)--------|
E|---------------------------------------|


American woman, said get away
American woman, listen what I say
Don't come a-hangin' around my door
Don't wanna see your face no more
I don't need your war machines
I don't need your ghetto scenes
Coloured lights can hypnotize
Sparkle someone else's eyes
Now woman, get away from me
American woman, mama, let me be

Lead

Go, gotta get away, gotta get away
Now go go go
I'm gonna leave you, woman
Gonna leave you, woman
Bye-bye
Bye-bye
Bye-bye
Bye-bye
You're no good for me
I'm no good for you
Gonna look you right in the eye
Tell you what I'm gonna do
You know I'm gonna leave
You know I'm gonna go
You know I'm gonna leave
You know I'm gonna go, woman
I'm gonna leave ya, woman
Goodbye, American woman... 


FullDistorsion.com YouTube Lesson: http://www.youtube.com/watch?v=LZZjl1KXq94
        
American Woman - The Guess Who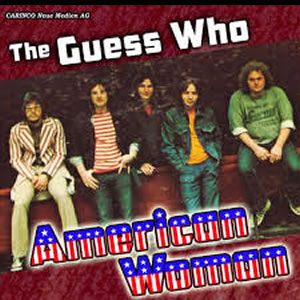 American Woman is a song by Canadian rock band The Guess Who, first released in January 1970 on the album of the same name and later in March as a single, which reached No. 1 on the Billboard Hot 100. The song has been covered by many rock artists, including, Lenny Kravitz and Krokus.
The song's origins took the form of a live jam at a curling rink concert in Waterloo, Ontario. The group was rushing into the second set and began improvising a rhythm to liven up the crowd. Burton Cummings, the lead singer, began improvising lyrics to fit the music. They liked what they had played and noticed a kid with a cassette recorder making a bootleg copy and asked him for the tape.The subsequent studio recording features the original almost completely unchanged; only a few lines were added.
Shortly after its release, The Guess Who were invited to play at the White House. Because of its supposed anti-American lyrics, Pat Nixon asked that they not play "American Woman".
The story told to me by Randy Bachman During a break to replace a broken guitar string at the curling rink concert Randy stumbled onto the American Women riff. He quickly got the band back on stage and continued to jam the new riff and then turned to Burton and said "sing something". Burton freak not ready to improv a rock song and ended up with the words "American Women" as in the "Statue of liberty". Just prior to that show they were lost on the US side of the boarder and were almost tricked into driving down a one-way road that lead to a military post loading boys onto planes to Vietnam.
Source: Wikipedia, the free encyclopedia

American Woman - The Guess Who
American Woman - The Guess Who
Adder:
Bill Charrette [ willc ]
Date:
2/16/2014
Updated:
4/26/2015
Tab By:
willc
Rated:

(2)

Hot!

Popular!

Views:
1237
pdf Hits:
498
Genre:
Rock