Memories of 'The Pearl'
Background
[This Page is Under Construction]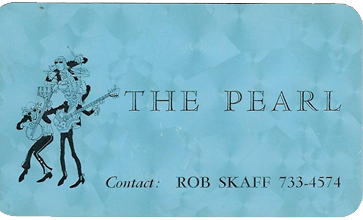 The Pearl was a local Ottawa Rock Band founded in the late sixties. Members included Geoff Manchester (front man and lead vocals), Ron Hodgins (lead guitar and vocals), Jim Blackler (bass guitar, keyboards, tenor sax and vocals), Robbie Skaff (drums) and Bill Charrette (rhythm guitar).
The Pearl morphed from the garage bandThe Lost Soulsafter signing Geoff and Ron. It became clear right away that the group had something worthwhile to offer.
Geoff's unique style of vocal melodies and memorable stage presence, Ron's powerful leads and vocal harmonies, Jim's melodic bass lines and backing vocals, Robbie's feel for the groove and Bill's strong sense of rhythm and timing all defined the band's sound.
The band played at numerous bars, church halls and community centers, including performances at private weddings and banquets in and around the Ottawa and Gatineau areas (Robbie scheduled most gigs, practices and concerts). The band became quite popular after winning several 'Battle of the Bands' competitions (Canterbury Community Centre [Ottawa On], the Gyrostat Club [Hull QC] and the Manor Park Centre [Ottawa On]). See Set List below.
The group often performed with attractive and talented go-go dancers to help entertain the patrons at nightclubs and other venues. Janice Watson, Wanda Kemp and Gail Azar formed part of this creative and classy dance troupe. Their appearances helped put energy in the party as well as encouraged people to come to the gigs.
Rehearsals were carried out at various locations in Ottawa; the Officers Mess - Wurtemburg/Rideau St., Hillcrest High School - Dauphin Rd. and at both Geoff's and Robbie's homes in the Alta Vista area.
Sadly, many of the photographs and other band remembrances perished when the band broke up. However, pictures and other memorabilia will be added to this page when they become available.
Pics Etc.
[Click to Show/Hide]
Set List
[Click to Show/Hide]
Page viewed 2266 times

(since Feb. 19, 2018)