SRV Blues Lick Embellishment
SRV Blues Lick Embellishment - Robert Renman
* Audio file extracted from Robert Renman's website
SRV Blues Lick Embellishment - Robert Renman (4/4 - Key E)

Key E:
-----

    ___ ___    ___ ___     ___ ___    ___ ___      ___ ___
   |   |   |  |   |   |   |   |   |  |   |   |    |   |   |
e|-----------12--12--12--12--12-----------------|-----------|
B|----------------------------------12v-----12v-|-----------|
G|-----------12--14--14b-14--12-----12v-----12v-|-----------|
D|--------14---------------------14-------------|-14--------|
A|----------------------------------------------|-----------|
E|----------------------------------------------|-----------|



*:·..·:*¨¨*:·..·:*¨¨*:·..·:*¨¨*:·..·:*¨¨*:·..·:*¨¨*:·..·:*



Key A (Transposed - Original Key E):
-----

    ___ ___    ___ ___     ___ ___    ___ ___      ___ ___
   |   |   |  |   |   |   |   |   |  |   |   |    |   |   |
e|------------5---5---5---5---5-----------------|-----------|
B|-----------------------------------5v------5v-|-----------|
G|------------5---7---7b--7---5------5v------5v-|-----------|
D|---------7----------------------7-------------|-7---------|
A|----------------------------------------------|-----------|
E|----------------------------------------------|-----------|
        
SRV Blues Lick Embellishment - Robert Renman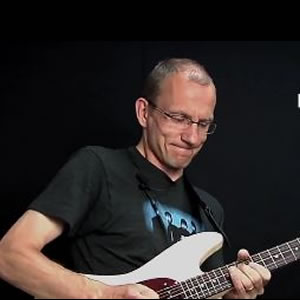 Master Guitar Academy is where Robert Renman teaches guitar. Blues, rock, jazz, funk, technique, improvisation, theory, beginner, intermediate, advanced – the list is long, because he teaches many styles.
Perhaps you know him from
http://www.dolphinstreet.com
? Yep, that's him, but this site is different. This website is FOCUSED on teaching guitar. That means, the look and feel is slick and clean and non-cluttered, and this is where I put my heart and soul into creating lessons, as well as doing Live Streaming Video Sessions, EVERY WEEK. Everything is focused on helping YOU improve as a player.
A really cool slow blues lick, in the style of Stevie Ray Vaughan - a good example how you can take a simple idea and embellish it. This is one is super tasty, and I can guarantee that you will instantly recognize this lick when you hear it.
Source: MasterGuitarAcademy.com

SRV Blues Lick Embellishment - Robert Renman
SRV Blues Lick Embellishment - Robert Renman
Adder:
Bill Charrette [ willc ]
Date:
3/18/2013
Tab By:
willc
Rated:

(3)

Hot!

Popular!

Views:
902
pdf Hits:
387
Genre:
Quick Licks