Blues Scale Lick 1
Blues Scale Lick 1 - Robert Renman
* Audio file extracted from Robert Renman's website
Blues Scale Lick 1 - Robert Renman (4/4 - Key A)

Key A:
-----

    _ _ _   _   _ _ _ _   _ _ _     _   _   _ _ _
   | | | | | | | | | | | | | | |   | | | | | | | |
e|---5---8-5---------------------|-----------------|
B|-5---5-------8-5h8p5---5-------|-----------------|
G|---------------------8---8-7-5-|---7-5vv---------|
D|-------------------------------|-7---------------|
A|-------------------------------|-----------------|
E|-------------------------------|-----------------|



*:•..•:*¨¨*:•..•:*¨¨*:•..•:*¨¨*:•..•:*¨¨*:•..•:*¨¨*:•..•:*



Key E (Transposed - Original Key A):
-----

    _ _ _   _   _ _ _ _   _ _ _     _   _   _ _ _
   | | | | | | | | | | | | | | |   | | | | | | | |
e|---0---3-0---------------------|-----------------|
B|-0---0-------3-0h3p0---0-------|-----------------|
G|---------------------3---3-2-0-|---2-0vv---------|
D|-------------------------------|-2---------------|
A|-------------------------------|-----------------|
E|-------------------------------|-----------------|
        
Blues Scale Lick 1 - Robert Renman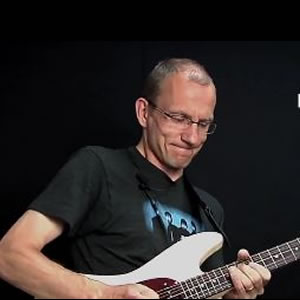 Guitar Lesson Overview
Here is a nice little blues guitar lick, using just the blues scale. The example is played in the key of A. I briefly used the backing track called "wreck me baby" to play this lick over as well.
One thing I am trying convey here is that I am taking a scale, and I use it to create a musical phrase. It sounds so much better than just playing the scale itself up and down.
Remember you should use this approach with any scale. Use the notes from the scale, but create a phrase or musical statement from it. Your playing will sound so much better.
The blues scale is almost the same as the minor pentatonic scale; there is one added note - the b5/#4. So in the key of A, these would be the notes: A, C, D, D#, E, G.
Source: DolphinStreet.com

Blues Scale Lick 1 - Robert Renman
Blues Scale Lick 1 - Robert Renman
Adder:
Bill Charrette [ willc ]
Date:
3/13/2013
Tab By:
willc
Rated:

(2)

Hot!

Popular!

Views:
925
pdf Hits:
411
Genre:
Quick Licks