Blues Song Riff (139)

[

Info ]
Audio, Chords & Tab

pdf
Blues Song Riff (139) - Neal Walter
* Audio file extracted from Neal Walter's website
Blues Song Riff (139) - Neal Walter (4/4 - Key A)

Key A:
-----

Two Versions: Version 1 - lick pattern follows the chords of the 12 Bar 
Progression & Version 2 - lick pattern stays on the A position

Version 1: (lick pattern follows the chords of the 12 bar progression)
----------------------------------------------------------------------

   A7                                                A7
    ___    ___    ___    ___    ___    ___    ___ 
   |   |  |   |  |   |  |   |  |   |  |   |  |   |   |  |  |  |
e|-5-----------------------------------------------|------------|
B|-5---7--5----------------------------------------|------------|
G|-----7--5h--6------------------------------------|------------|
D|---------------7---5---------5-------------------|------------|
A|----------------------6h--7------5s-3------3h--4-|------------|
E|----------------------------------------5--------|-5----------|

   A7                                                A7
    ___    ___    ___    ___    ___    ___    ___ 
   |   |  |   |  |   |  |   |  |   |  |   |  |   |   |  |  |  |
e|-5-----------------------------------------------|------------|
B|-5---7--5----------------------------------------|------------|
G|-----7--5h--6------------------------------------|------------|
D|---------------7---5---------5-------------------|------------|
A|----------------------6h--7------5s-3------3h--4-|------------|
E|----------------------------------------5--------|-5----------|

   D7 
    ___    ___    ___    ___    ___    ___    ___ 
   |   |  |   |  |   |  |   |  |   |  |   |  |   |
e|-10----------------------------------------------|
B|-10--12-10---------------------------------------|
G|-----12-10h-11-----------------------------------|
D|---------------12--10--------10------------------|
A|----------------------11h-12-----10s8------8h--9-|
E|----------------------------------------10-------|

   D7 (Embellishment)
    ___ ___ ___    ___ ___ ___    ___ 
   |   |   |   |  |   |   |   |  |   |
e|-------------------------------------|
B|-----x---x---x--x---x---x--13--13----|
G|-----x---x---x--x---x---x---x---x----|
D|-----x---x---x--x---x---x--10--10----|
A|-------------------------------------|
E|-10----------------------------------|

   A7                                                A7
    ___    ___    ___    ___    ___    ___    ___ 
   |   |  |   |  |   |  |   |  |   |  |   |  |   |   |  |  |  |
e|-5-----------------------------------------------|------------|
B|-5---7--5----------------------------------------|------------|
G|-----7--5h--6------------------------------------|------------|
D|---------------7---5---------5-------------------|------------|
A|----------------------6h--7------5s-3------3h--4-|------------|
E|----------------------------------------5--------|-5----------|

   E7
    ___    ___    ___    ___    ___    ___    ___
   |   |  |   |  |   |  |   |  |   |  |   |  |   |
e|-12----------------------------------------------|
B|-12--14-12---------------------------------------|
G|-----14-12h-13-----------------------------------|
D|---------------14--12--------12------------------|
A|----------------------13h-14-----12s10-----10h11-|
E|----------------------------------------12-------|

   D7 
    ___    ___    ___    ___    ___    ___    ___ 
   |   |  |   |  |   |  |   |  |   |  |   |  |   |
e|-10----------------------------------------------|
B|-10--12-10---------------------------------------|
G|-----12-10h-11-----------------------------------|
D|---------------12--10--------10------------------|
A|----------------------11h-12-----10s8------8h--9-|
E|----------------------------------------10-------|

   A7                                                A7
    ___    ___    ___    ___    ___    ___    ___ 
   |   |  |   |  |   |  |   |  |   |  |   |  |   |   |  |  |  |
e|-5-----------------------------------------------|------------|
B|-5---7--5----------------------------------------|------------|
G|-----7--5h--6------------------------------------|------------|
D|---------------7---5---------5-------------------|------------|
A|----------------------6h--7------5s-3------3h--4-|------------|
E|----------------------------------------5--------|-5----------|



Version 2: (lick pattern stays on the A position throughout the 12 bars)
------------------------------------------------------------------------


   A7
    ___    ___    ___    ___    ___    ___    ___ 
   |   |  |   |  |   |  |   |  |   |  |   |  |   |
e|-5-----------------------------------------------|
B|-5---7--5----------------------------------------|
G|-----7--5h--6------------------------------------|
D|---------------7---5---------5-------------------|
A|----------------------6h--7------5s-3------3h--4-|
E|----------------------------------------5--------|

   A7 (Embellishment)
    ___ ___ ___    ___ ___ ___    ___ 
   |   |   |   |  |   |   |   |  |   |
e|-----x---x---x-15--15--15--15--14----|
B|-----x---x---x--x---x---x---x--x-----|
G|-----x---x---x-12--12--12--12--11----|
D|-------------------------------------|
A|-------------------------------------|
E|-5-----------------------------------|

   A7
    ___    ___    ___    ___    ___    ___    ___ 
   |   |  |   |  |   |  |   |  |   |  |   |  |   |
e|-5-----------------------------------------------|
B|-5---7--5----------------------------------------|
G|-----7--5h--6------------------------------------|
D|---------------7---5---------5-------------------|
A|----------------------6h--7------5s-3------3h--4-|
E|----------------------------------------5--------|

   A7 (Embellishment)
    ___ ___    ___ ___ ___    ___ ___ ___    ___ 
   |   |   |  |   |   |   |  |   |   |   |  |   |
e|------------------------------------------------|
B|------------------------------------------------|
G|-----x---x--x---x---x---5--x---5---x---5--------|
D|-----x---x--x---x---5---5--5---7---x---7--------|
A|-----x---x--x---x---x---x--x---x---x---x--------|
E|-5----------------------------------------------|

   D7                                                D7
    ___    ___    ___    ___    ___    ___    ___ 
   |   |  |   |  |   |  |   |  |   |  |   |  |   |   |  |  |  |
e|-5-----------------------------------------------|------------|
B|-5---7--5----------------------------------------|------------|
G|-----7--5h--6------------------------------------|------------|
D|---------------7---5---------5-------------------|------------|
A|----------------------6h--7------5s-3------3h--4-|------------|
E|----------------------------------------5--------|-5----------|

   A7
    ___    ___    ___    ___    ___    ___    ___ 
   |   |  |   |  |   |  |   |  |   |  |   |  |   |
e|-5-----------------------------------------------|
B|-5---7--5----------------------------------------|
G|-----7--5h--6------------------------------------|
D|---------------7---5---------5-------------------|
A|----------------------6h--7------5s-3------3h--4-|
E|----------------------------------------5--------|

   A7 (Embellishment)
    ___ ___ ___    ___ ___ ___    ___ 
   |   |   |   |  |   |   |   |  |   |
e|-----x---x---x-15--15--15--15--14----|
B|-----x---x---x--x---x---x---x--x-----|
G|-----x---x---x-12--12--12--12--11----|
D|-------------------------------------|
A|-------------------------------------|
E|-5-----------------------------------|

   E7
    ___    ___ ___ ___    ___ ___ ___    ___ ___ 
   |   |  |   |   |   |  |   |   |   |  |   |   |
e|-5-----------------------------------------------|
B|-5---7--5----------------------------------------|
G|-----7--5h--6------------------------------------|
D|----------------7---5----------5-----------------|
A|-----------------------6h--7-------5s-3-------3/-|
E|------------------------------------------5------|

   D7 
    ___    ___ ___ ___    ___ ___ ___    ___ ___ 
   |   |  |   |   |   |  |   |   |   |  |   |   |
e|-5-----------------------------------------------|
B|-5---7--5----------------------------------------|
G|-----7--5h--6------------------------------------|
D|----------------7---5----------5-----------------|
A|-----------------------6h--7-------5-(5)---------|
E|-------------------------------------------------|

   A7
    ___    ___    ___    ___    ___    ___    ___ 
   |   |  |   |  |   |  |   |  |   |  |   |  |   |
e|-5-----------------------------------------------|
B|-5---7--5----------------------------------------|
G|-----7--5h--6------------------------------------|
D|---------------7---5---------5-------------------|
A|----------------------6h--7------5s-3------3h--4-|
E|----------------------------------------5--------|

   A7 (Turnaround)
        ___ ___ 
   |   |   |   |   |
e|-----x---x---x------|
B|-----x---x---x------|
G|-----x---x---x------|
D|--------------------|
A|-----5---6---7--(7)-|
E|-5------------------|
        
Blues Song Riff (139) - Neal Walter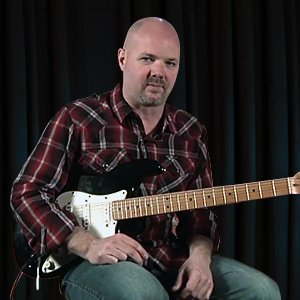 Blues Song Riff (139)
San Francisco, California session guitarist Neal Walter is your host for the Guitar Tricks Channel. Neal has a warm, vibrant "classic rock" sound and a wealth of information about how to quickly improve your guitar playing.
Classically trained at age 7 on guitar, Neal then progressed to the styles of Jazz, Country and Blues with a focus on Rock guitar. He currently plays guitar in the power-rock quartet NTL and is a session player for various local artists.
For the beginning to intermediate guitarist, Neal shares his insight to soloing over the whole fretboard, and how to use trills and slides to flavor your lead lines. If you only Neal combines these elements to make a riff that you can play through a whole blues progression: Hammer-on, double stops, finger roll, slide, chord tones. This is a great way to better understand mixing techniques to create a riff in the blues format. Key of A.
Special guest: Alexander!
Lesson:
http://www.youtube.com/watch?client=mv-google&gl=CA&hl=en&v=TBgjX1umbeM&feature=relmfu&nomobile=1
Source: GuitarTricks.com

Blues Song Riff (139) - Neal Walter
Blues Song Riff (139) - Neal Walter
Adder:
Bill Charrette [ willc ]
Date:
3/10/2013
Tab By:
willc
Rated:

(2)

Hot!

Popular!

Views:
870
pdf Hits:
394
Genre:
Licks