BB King Style Lick 1
BB King Style Lick 1 - Robert Renman
* Audio file extracted from Robert Renman's website
BB King Style Lick 1 - Robert Renman (4/4 - Key A)

This example centers mostly around the "BB Blues Box":

Key A:
-----

MAJOR (Box 4)

          A7            D7              A7
    ___       __    __    __    __    __        __ 
   |   |  |  |  |  |  |  |  |  |  |  |  |   |  |  |
e|----------------10-10p-9-10-12---------------------|
B|-------10vv--10----------------12b---10vv------12b-|
G|-9h-11--------------------------------------11-----|
D|---------------------------------------------------|
A|---------------------------------------------------|
E|---------------------------------------------------|


*:·..·:*¨¨*:·..·:*¨¨*:·..·:*¨¨*:·..·:*¨¨*:·..·:*¨¨*:·..·:*


Key E (Transposed - Original Key A):
-----

MAJOR (Box 4)

        E7     A7              E7
    __       _   _    _   _    _       _
   |  | |   | | | |  | | | |  | |   | | |
e|--------------5-5p-4-5-7-----------------|
B|------5vv---5------------7b---5vv-----7b-|
G|-4h-6-------------------------------6----|
D|-----------------------------------------|
A|-----------------------------------------|
E|-----------------------------------------|
        
BB King Style Lick 1 - Robert Renman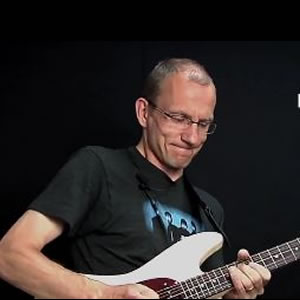 Guitar Lesson Overview
Here is a B.B. King style blues lick, played in the key of A.
BB King uses this box A LOT when he plays, but it is only a starting point for creating ideas. You can add any extra notes that you think sound good. In this lick, you can see that the note C# (fret 9 on the E string) is added to create a nice little motif.
That's how you should think of these boxes, patterns, etc - they are reference points for creating musical lines or ideas.
Source: DolphinStreet.com

BB King Style Lick 1 - Robert Renman
BB King Style Lick 1 - Robert Renman
Adder:
Bill Charrette [ willc ]
Date:
3/2/2013
Tab By:
willc
Rated:

(3)

Hot!

Popular!

Views:
1151
pdf Hits:
448
Genre:
Quick Licks