Best Blues Vibrato (142)
Best Blues Vibrato (142) - Neal Walter
* Audio file extracted from Neal Walter's website
Best Blues Vibrato (142) - Neal Walter (4/4 - Key A)

Key A:
-----

   A
    _   _   _   _     _   _   _   _     _   _   _   _     _   _   _   _
   | | | | | | | |   | | | | | | | |   | | | | | | | |   | | | | | | | |
e|-----------------|-----------------|-----------------|-------------5vv-|
B|-----------------|-----------------|-----------------|-----------------|
G|---5-7br-5h7vv---|---5-7br---5vv---|---5-7br-5h7vv---|---5-7br---5-----|
D|s7---------------|s7-------7-------|s7---------------|s7-------7-------|
A|-----------------|-----------------|-----------------|-----------------|
E|-----------------|-----------------|-----------------|-----------------| 


*:·..·:*¨¨*:·..·:*¨¨*:·..·:*¨¨*:·..·:*¨¨*:·..·:*¨¨*:·..·:*


Key E (Transposed - Original Key A):
-----

   A
    _   _   _   _     _   _   _   _     _   _   _   _     _   _   _   _
   | | | | | | | |   | | | | | | | |   | | | | | | | |   | | | | | | | |
e|-----------------|-----------------|-----------------|-------------0---|
B|-----------------|-----------------|-----------------|-----------------|
G|---0-2br-0h2vv---|---0-2br---0-----|---0-2br-0h2vv---|---0-2br---0-----|
D|s2---------------|s2-------2-------|s2---------------|s2-------2-------|
A|-----------------|-----------------|-----------------|-----------------|
E|-----------------|-----------------|-----------------|-----------------|
        
Best Blues Vibrato (142) - Neal Walter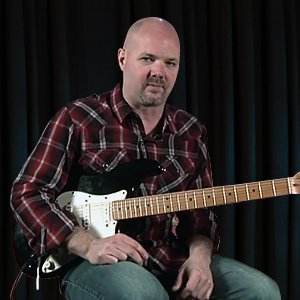 Guitar Tricks today boasts more than 1.9 Million members. Every day thousands of guitarists all over the globe take advantage of 5,000 video guitar lessons, hundreds of popular songs, versatile tools like Ultimate Metronome, Ultimate Chord Finder, Ultimate Scale Finder, Jam Station and much more.
Full Access Subscribers enjoy expert instruction from over 45 instructors from around the world. But anybody who wants to begin learning guitar has instant access to a core set of lessons and a helpful community - for free.
Vibrato is key to the blues sound, Neal shows you his secret to getting that killer blues vibrato.
Using the classic "call & response", this lick is very useful to beginner guitarists. You can use it over the I, IV or V chord of a 12-bar blues and it sounds great on every chord.
Source: GuitarTricks.com

Best Blues Vibrato (142) - Neal Walter
Best Blues Vibrato (142) - Neal Walter
Adder:
Bill Charrette [ willc ]
Date:
2/21/2013
Tab By:
willc
Rated:

(2)

Hot!

Popular!

Views:
1179
pdf Hits:
440
Genre:
Quick Licks