Slow Blues Shuffle
Slow Blues Shuffle - Robert Renman
* Audio file extracted from Robert Renman 's website
Slow Blues Shuffle - Robert Renman (4/4 - Key E)

12 Bar Solo - Key E:
-------------------

   E                 E                     E
    _   _   _   _     _   _   _   _ _ _     _   _   _   _  
   | | | | | | | |   | | | | | | | | | |   | | | | | | | |
e|-----------------|-------------0-0-0-0-|-----------------|
B|-----------------|---------------------|-----------------|
G|-----------------|------------s4s3-2h1-|-----------------|
D|---------------2-|---------------------|---------------2-|
A|-2-2-4-4-2-2-----|-2-2-4-4-2(2)--------|-2-2-4-4-2-2-----|
E|-0-0-0-0-0-0-3b--|-0-0-0-0-0(0)--------|-0-0-0-0-0-0-3b--|

   E
    _   _   _   _ _ _
   | | | | | | | | | |
e|-----------0-0-0-0-0-|
B|-----------0-2-5-8-5-|
G|---------------------|
D|---------------------|
A|-2-2-4-4-2(2)--------|
E|-0-0-0-0-0(0)--------|

   A                 A                     E 
    _   _   _   _     _   _   _   _ _ _     _   _   _   _ 
   | | | | | | | |   | | | | | | | | | |   | | | | | | | |
e|-----------------|-------------0-0-0-0-|-----------------|
B|-----------------|---------------------|-----------------|
G|---------------2-|------------s4s3-2h1-|-----------------|
D|-2-2-4-4-2-2-----|-2-2-4-4-2-2---------|---------------2-|
A|-0-0-0-0-0-0-3b--|-0-0-0-0-0-0---------|-2-2-4-4-2-2-----|
E|-----------------|---------------------|-0-0-0-0-0-0-3b--|

   E
    _   _   _   _ _ _
   | | | | | | | | | |
e|-----------0-0-0-0-0-|
B|-----------0-2-5-8-7-|
G|---------------------|
D|---------------------|
A|-2-2-4-4-2(2)--------|
E|-0-0-0-0-0(0)--------|

   B7                    A                 E
    _   _   _   _ _ _     _   _   _   _     _   _   _   _ 
   | | | | | | | | | |   | | | | | | | |   | | | | | | | | 
e|-2-------------------|-----------------|-----------------|
B|-0-------------------|-----------------|-----------------|
G|-2---------------4---|-----------------|-----------------|
D|-1---------------4---|-2-2-4-4-2-2---2-|---------------2-|
A|-2-----------0s6---6-|-0-0-0-0-0-0-----|-2-2-4-4-2-2-----|
E|---------------------|-------------3b--|-0-0-0-0-0-0-3b--|

   B7
    _   _   _   _ _ _ 
   | | | | | | | | | |
e|-------------2-------|
B|-------------0-------|
G|-------------2-------|
D|-------------1-------|
A|-2-2---0-1-2-2-------|
E|-0-0-4---------------|
        
Slow Blues Shuffle - Robert Renman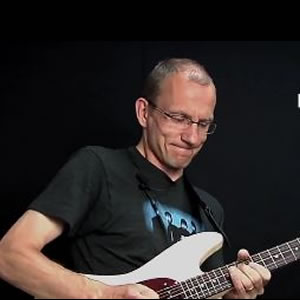 Guitar Lesson Overview
Learn a slow blues shuffle! This one is fun to play, and as the lesson shows towards the end, it sounds great played faster too. Work on playing a steady rhythm. This is sometimes tricky when its slow like this, so practice this with a metronome or drum machine, and work on playing it with a nice groove - tight, with some feeling.
You can play almost any kind of blues lick over a rhythm like this. Pretty much anything goes! Enjoy, and let me know what you think of this guitar lesson.
View YouTube Lesson:
http://www.youtube.com/watch?v=mXIza_9sSes&feature=player_embedded#!
Source: DolphinStreet.com

Slow Blues Shuffle - Robert Renman
Slow Blues Shuffle - Robert Renman
Adder:
Bill Charrette [ willc ]
Date:
2/17/2013
Tab By:
willc
Rated:

(3)

Hot!

Popular!

Views:
895
pdf Hits:
410
Genre:
Quick Licks