Blues Turnarounds Lick 2
Blues Turnarounds Lick 2 - Robert Renman
* Audio file extracted from Robert Renman's website
Blues Turnarounds Lick 2 - Robert Renman (4/4 - Key A)

Key A:
-----

   A
    _ _   _ _   _ _   _   _ _   _ 
   | | | | | | | | | | | | | | | | 
e|-------5-------------------------|
B|---5-7---8-5---------------------|
G|-6-----------8-7-5---------------|
D|-------------------7-------------|
A|-----------------------5-6-7vv---|
E|---------------------------------|


*:·..·:*¨¨*:·..·:*¨¨*:·..·:*¨¨*:·..·:*¨¨*:·..·:*¨¨*:·..·:*


Key E (Transposed - Original Key A):
-----

   E
    _ _   _ _   _ _   _   _ _   _ 
   | | | | | | | | | | | | | | | | 
e|-------0-------------------------|
B|---0-2---3-0---------------------|
G|-1-----------3-2-0---------------|
D|-------------------2-------------|
A|-----------------------0-1-2vv---|
E|---------------------------------|
        
Blues Turnarounds Lick 2 - Robert Renman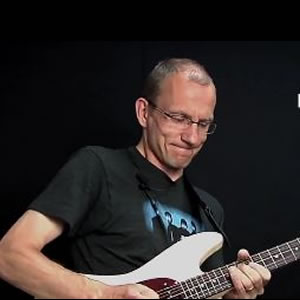 Here is turnaround lick number 2, played in the key of A. This lick work well as regular blues lick too, just skip the last 3 notes, and it sound good as a "normal" blues lick anywhere in blues. Part of the reason for this is that this one is played one note at time.
Many other turnarounds have two or three-note arpeggios. The Turnaround #1 on this site is an example of a three-note arpeggio, for example.
One strong reason why a lick like this works well as a turnaround are those last three notes. These three notes kind of wrap up the whole lick in the V-chord. Licks that end like this, where it is obvious it is being finished of on the V-chord, will work great as turnaround licks.
Source: DolphinStreet.com

Blues Turnarounds Lick 2 - Robert Renman
Blues Turnarounds Lick 2 - Robert Renman
Adder:
Bill Charrette [ willc ]
Date:
1/29/2013
Tab By:
willc
Rated:

(2)

Hot!

Popular!

Views:
948
pdf Hits:
417
Genre:
Quick Licks