Blues Turnarounds Lick 4
Blues Turnarounds Lick 4 - Robert Renman
* Audio file extracted from Robert Renman's website
Blues Turnarounds Lick 4 - Robert Renman (4/4 - Key E)

Key E:
-----

   B                 A                                         C9  B9
    _   _   _   _     _   _   _   _     _ _   _ _   _ _   _ _   _   _
   | | | | | | | |   | | | | | | | |   | | | | | | | | | | | | | | | |
e|-----------------|-----------------|---------------------------------|
B|-----------------|-----------------|-------------------------8---7---|
G|-----------------|-----------------|-------------------------7---6---|
D|-----------------|-----------------|-----6---6-7p6-7-8p7-8-9-8---7---|
A|-9--11---9--11---|-7---9---7---7---|-2-7---7-----------------7---6---|
E|-7---7---7---7---|-5---5---5---5---|-0-------------------------------|


*:·..·:*¨¨*:·..·:*¨¨*:·..·:*¨¨*:·..·:*¨¨*:·..·:*¨¨*:·..·:*


Key A (Transposed - Original Key E):
-----

   E                 D                                         F9  E9
    _   _   _   _     _   _   _   _     _ _   _ _   _ _   _ _   _   _
   | | | | | | | |   | | | | | | | |   | | | | | | | | | | | | | | | |
e|-----------------|-----------------|---------------------------------|
B|-----------------|-----------------|-------------------------12--11--|
G|-----------------|-2---4---2---4---|-----6---6-7p6-7-8p7-8-9-11--10--|
D|-----------------|-0---0---0---0---|-2-7---7-----------------12--11--|
A|-2---4---2---4---|-----------------|-0-----------------------11--10--|
E|-0---0---0---0---|-----------------|---------------------------------|
        
Blues Turnarounds Lick 4 - Robert Renman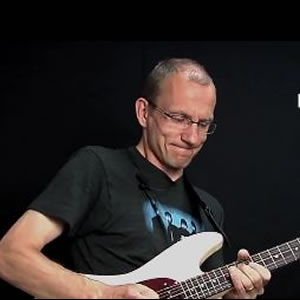 Guitar Lesson Overview
This turnaround lick in E is inspired by Stevie Ray Vaughan. I think he played this turnaround on one of his popular tunes, I just can't remember which one it was. It sounds cool played at a moderate tempo. I don't think it sounds so exciting at slower tempos. Have a look at the TAB or the GP5 files (
http://www.dolphinstreet.com/guitar_video_lessons/lesson-88.php
) if the video isn't helpful enough. Oh, and I made a mistake when I said C7 and B7. Those chords I played are in fact inversions of C9 and B9... just in case the theory police is watching. I do know music theory quite well, regardless of what some youtube commenters might think! haha!
By the way, maybe I should have explained the shuffle rhythm parts over B and A more, but I figured most people would know this already.
Hope you enjoy this lick - and if you do or don't, please let me know regardless! I appreciate all feedback.
Source: DolphinStreet.com,

Blues Turnarounds Lick 4 - Robert Renman
Blues Turnarounds Lick 4 - Robert Renman
Adder:
Bill Charrette [ willc ]
Date:
1/29/2013
Updated:
3/4/2014
Tab By:
willc
Rated:

(3)

Hot!

Popular!

Views:
981
pdf Hits:
415
Genre:
Quick Licks