Greensleeves
Facebook
Tweet
Digg
Google+
>Email
Greensleeves - Unknown
* Audio file gathered from willc's personal music library
Greensleeves - Unknown (3/4)

Melody:

 Am             Am        G               F               E7
   _               _
    |   | | |   | | | |   | | |   | | |   | | |   | | |   | | |   | | | 
e|----|-------|-0---1-0-|-------|-------|-------|-------|-------|---0---|
B|----|-1---3-|-1-------|-3---0-|-----0-|-1-----|-------|-0-----|---0---|
G|--2-|-2-----|-2-------|-0-----|-0h2---|-2---2-|-2-1-2-|-1---1-|---1---|
D|----|-2-----|-2-------|-0-----|-0-----|-3-----|-3-----|-0-----|-2-----|
A|----|---0---|---0-----|-2-----|-2-----|-------|-------|-2-----|-------|
E|----|-------|---------|---3---|-3-----|---1---|-------|---0---|-------|

 Am                       G               F       E7      Am
   _               _
    |   | | |   | | | |   | | |   | | |   | | |   | | |   | | |   | | |
e|----|-------|-0---1-0-|-------|-------|-------|-------|-------|---0-0-|
B|----|-1---3-|-1-------|-3---0-|-----0-|-1-0---|-------|-------|---1-1-|
G|--2-|-2-----|-2-------|-0-----|-0h2---|-2---2-|-1---1-|-2-----|---2-2-|
D|----|-2-----|-2-------|-0-----|-0-----|-3-----|-0-4---|---2---|-------|
A|----|---0---|---0-----|-2-----|-2-----|-------|-2-----|-----3-|-0-----|
E|----|-------|---------|---3---|-3-----|-------|-0-----|-------|-------|


Chorus:

   C                 G               F               E7
              _                                  
   | | |   | | | |   | | |   | | |   | | |   | | |   | | |   | | |
e|-3-----|-3---2-0-|-------|-------|-------|-------|-------|---0-0-|
B|---1-1-|-1-------|-3---0-|-----0-|-1-----|-------|-0-----|---0-0-|
G|---0-0-|-0-------|-0-----|-0h2---|-2-----|-2-1-2-|-1---1-|---1-1-|
D|---2-2-|-2-------|-0-----|-0-----|-3-----|-3-----|-0-----|-2-----|
A|---3-3-|---3-----|-2-----|-2-----|-------|-------|-2-----|-------|
E|-------|---------|---3---|-3-----|---1-1-|-------|---0---|-------|

   C                 G               F       E7        Am 
              _                                 _
   | | |   | | | |   | | |   | | |   | | |   | | | |   | | |   | | |
e|-3-----|-3---2-0-|-------|-------|-------|---------|-------|-0-----|
B|---1-1-|-1-------|-3---0-|-----0-|-1-0---|-0-------|-------|-1-----|
G|---0-0-|-0-------|-0-----|-0h2---|-2---2-|-1-----1-|-2-----|-2-----|
D|---2-2-|-2-------|-0-----|-0-----|-3-----|-0---4---|---2---|-2-----|
A|---3-3-|---3-----|-2-----|-2-----|-------|-2-------|-----3-|-0-----|
E|-------|---------|---3---|-3-----|-------|---0-----|-------|-------|


Am       Am        G     G
Alas, my love, you do me wrong,
   F       F       E7        E7
To cast me out discourteously.
    Am      Am        G    G 
When I have loved you so long,
  F        E7      Am      Am
Delighting in your company.


Chorus:

C+g    C+g       G      G  
Greensleeves was my delight
F      F         E7     E7
Greensleeves was all my joy,
C+g    C+g       G           G  
Greensleeves was my heart of gold,
    F           E7        Am     Am
And who but my lady Greensleeves. 


Your vows you've broken, like my heart,
Oh, why did you so enrapture me?
Now I remain in a world apart
But my heart remains in captivity.

Chorus

I have been ready at your hand,
To grant whatever you would crave,
I have both wagered life and land,
Your love and good-will for to have.

Chorus

If you intend thus to disdain,
It does the more enrapture me,
And even so, I still remain
A lover in captivity.

Chorus

My men were clothed all in green,
And they did ever wait on thee;
All this was gallant to be seen,
And yet thou wouldst not love me.

Chorus

Thou couldst desire no earthly thing,
But still thou hadst it readily.
Thy music still to play and sing;
And yet thou wouldst not love me.

Chorus

Well, I will pray to God on high,
That thou my constancy mayst see,
And that yet once before I die,
Thou wilt vouchsafe to love me.

Chorus

Ah, Greensleeves, now farewell, adieu,
To God I pray to prosper thee,
For I am still thy lover true,
Come once again and love me.

Chorus

        
Greensleeves - Unknown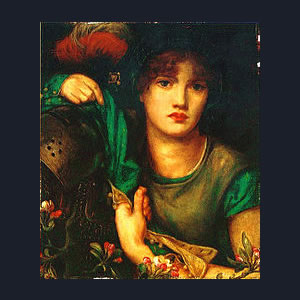 Greensleeves is a traditional English folk song and tune, a ground either of the form called a romanesca or of its slight variant, the passamezzo antico.
A broadside ballad by this name was registered at the London Stationer's Company in September 1580, by Richard Jones, as "A Newe Northen Dittye of ye Ladye Greene Sleves". Six more ballads followed in less than a year, one on the same day, 3 September 1580 ("Ye Ladie Greene Sleeves answere to Donkyn hir frende" by Edward White), then on 15 and 18 September (by Henry Carr and again by White), 14 December (Richard Jones again), 13 February 1581 (Wiliam Elderton), and August 1581 (White's third contribution, "Greene Sleeves is worne awaie, Yellow Sleeves Comme to decaie, Blacke Sleeves I holde in despite, But White Sleeves is my delighte". It then appears in the surviving A Handful of Pleasant Delights (1584) as A New Courtly Sonnet of the Lady Green Sleeves. To the new tune of Green Sleeves.
The tune is found in several late-16th-century and early 17th-century sources, such as Ballet's MS Lute Book and Het Luitboek van Thysius, as well as various manuscripts preserved in the Cambridge University libraries.
There is a persistent belief that Greensleeves was composed by Henry VIII for his lover and future queen consort Anne Boleyn. Boleyn allegedly rejected King Henry's attempts to seduce her and this rejection may be referred to in the song when the writer's love "cast me off discourteously". However, Henry did not compose "Greensleeves", which is probably Elizabethan in origin and is based on an Italian style of composition that did not reach England until after his death.
Source: Wikipedia, The Free Encyclopedia

Greensleeves - Unknown
Adder:
Bill Charrette [ willc ]
Date:
7/19/2012
Tab By:
willc
Rated:

(3)

Hot!

Popular!

Views:
1283
pdf Hits:
737
Genre:
Traditional