Amazing Grace (Fingerstyle)
Amazing Grace (Fingerstyle) - Unknown
* Audio file gathered from BigGreenC's personal music library
Amazing Grace (Fingerstyle) - Unknown (3/4 - Drop D Tuning)

Arranged By: M. Raven
Audio File: Julia Westlin

Intro:
-----
               D                           G
                        _ _ 
   |   |   |   |   |   | | |   |   |   |   |   |   |
e|-----------|---------2p0---|-2-------0-|-----------|
B|-----------|-3-----------3-|-3---------|-3-------0-|
G|---------2-|-2-------------|-2---------|-0---------|
D|-----------|-0-------------|-----------|-0---------|
A|-----------|---------------|-----------|-----------|
E|-----------|---------------|-0---------|-5---------|

   D                                         A
                        _ _             _ 
   |   |   |   |   |   | | |   |   |   | |   |   |   |
e|-----------|---------2p0---|-2-------0-2-|-5-------5-|
B|-----------|-3-----------3-|-3-----------|-2-------2-|
G|-2-------2-|-2-------------|-2-----------|-2-------2-|
D|-0---------|-0-------------|-------------|-----------|
A|-----------|---------------|-------------|-0---------|
E|-----------|-0-------------|-0-----------|-----------|

               D                           G
                        _ _ 
   |   |   |   |   |   | | |   |   |   |   |   |   |
e|-5-------5-|-5-------2p0---|-2-------0-|-----------|
B|-2---------|-------------3-|-3---------|-3-------0-|
G|-2---------|---------------|-2---------|-0---------|
D|-2---------|-0-------------|-0---------|-0---------|
A|-0---------|---------------|-----------|-----------|
E|-----------|---------------|-----------|-5---------|

   D                          A7(+6)       D
                        _ _ 
   |   |   |   |   |   | | |   |   |   |   |   |   |
e|-----------|---------2p0---|-2-------0-|-----------|
B|---------3-|-3-----------3-|-2---------|-3---------|
G|-2---------|-2-------------|-0---------|-2---------|
D|-0---------|-0-------------|-----------|-0---------|
A|-----------|---------------|-0---------|-------0---|
E|-----------|-0-------------|-----------|-----------|

   D

   |   |   |
e|-----------|
B|-----------|
G|---------2-|
D|-----------|
A|-----------|
E|-0---------|



Melody:
------
   D                             G           D
            _ _             _ 
   |   |   | | |   |   |   | |   |   |   |   |   |   |
e|---------2p0---|-2-------2p0-|-----------|-----------|
B|-3-----------3-|-------------|-3-------0-|-----------|
G|---------------|-------------|-----------|-2---------|
D|---------0-----|---------0---|---------0-|---------0-|
A|-----0---------|-----0-------|-----0-----|-----0-----|
E|-0-------------|-0-----------|-0---------|-0---------|

                                 A 
            _ _             _
   |   |   | | |   |   |   | |   |   |   |   |   |   |
e|---------0h2---|-2-------0h2-|-5-------5-|-5-------5-|
B|-3-----------3-|-------------|-----------|-----------|
G|---------------|-------------|-----------|-----------|
D|---------0-----|---------0---|---------0-|---------0-|
A|-----0---------|-----0-------|-----0-----|-----0-----|
E|-0-------------|-0-----------|-0---------|-0---------|

   D                             G           D
            _ _             _ 
   |   |   | | |   |   |   | |   |   |   |   |   |   |
e|-5-------2p0---|-2-------2p0-|-----------|-----------|
B|-------------3-|-------------|-3-------0-|---------3-|
G|---------------|-------------|-----------|-2---------|
D|---------0-----|---------0---|---------0-|---------0-|
A|-----0---------|-----0-------|-----0-----|-----0-----|
E|-0-------------|-0-----------|-0---------|-0---------|

                  A7(+6)       D
            _ _
   |   |   | | |   |   |   |   |   |   |   |   |   |
e|---------2p0---|-2-------0-|-----------|-----------|
B|-3-----------3-|-----------|-3---------|-----------|
G|---------------|-----------|-----------|---------2-|
D|---------0-----|---------0-|---------0-|---------0-|
A|-----0---------|-----0-----|-----0-----|-----0-----|
E|-0-------------|-0---------|-0---------|-0---------|


Chorus:
------
  D     D            G          D
Amazing Grace, how sweet the sound,
      D       D          A7     A7 
That saved a wretch like me.
   D        D         G      D
I once was lost, but now I'm found,
    D         A7     D       D
Was blind, but now I see.

Twas grace that thought my heart to fear, 
And grace my fear relieved. 
How precious did that grace appear, 
The hour I first believed.

Chorus

When we've been here ten thousand years,
Bright shining as the sun,
We've no less days to sing God's praise
Than when did when we first begun.

Chorus
        
Amazing Grace (Fingerstyle) - Unknown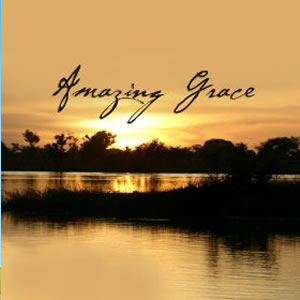 Audio File: Amazing Grace - Julia Westlin
Julia Westlin is an artist, singer/songwriter and model. She was born on May 14, 1988 in Stockholm, Sweden. In 2012, Julia moved from Sweden to Canada with her life partner where she continued her musical career. She has performed at several events around the world illustrating her art. The Scandinavian artist have composed soundtracks for movies, video games as well as for commercial projects and on individual requests.
Video:
https://www.youtube.com/watch?v=T3MNz7tUG-c
Source:
https://www.youtube.com/user/JuliaWestlin/about
*:·..·:*¨¨*:·..·:*¨¨*:·..·:*¨¨*:·..·:*¨¨*:·..·:*¨¨*:·..·:*
Amazing Grace is a Christian hymn with lyrics written by the English poet and clergyman John Newton (1725–1807), published in 1779. With a message that forgiveness and redemption are possible regardless of the sins people commit and that the soul can be delivered from despair through the mercy of God, "Amazing Grace" is one of the most recognizable songs in the English-speaking world.
Newton wrote the words from personal experience. He grew up without any particular religious conviction but his life's path was formed by a variety of twists and coincidences that were often put into motion by his recalcitrant insubordination. He was pressed into the Royal Navy, and after leaving the service, became involved in the slave trade. One night a terrible storm battered his vessel so severely that he became frightened enough to call out to God for mercy, a moment that marked the beginning of his spiritual conversion. His career in slave trading lasted a few years more until he quit going to sea altogether and began studying theology.
Source: Wikipedia, The Free Encyclopedia

Amazing Grace (Fingerstyle) - Unknown
Amazing Grace (Fingerstyle) - Unknown
Adder:
Cindy Green [ BigGreenC ]
Date:
3/6/2020
Tab By:
willc
Rated:

(3)

Hot!

Popular!

Views:
1495
pdf Hits:
511
Genre:
Traditional