6ths - A Powerful Way to...

[

Info ]
Audio, Chords & Tab

pdf
6ths - A Powerful Way to Play Melodically - Robert Renman
* Audio file extracted from Robert Renman's website
6ths - A Powerful Way to Play Melodically - Robert Renman (4/4 - Key C)

Key C:
-----

    F            C          G        Am
         __ __       __         __       __ 
    |   |  |  |  |  |  |    |  |  |  |  |  |
e|-----------13-12-10--8-|----10-------------|
B|-----------------------|s12----12-13-12-10-|
G|-----12s14----12-10--9-|-------------------|
D|-----------------------|s12-------14-12-10-|
A|-----------------------|-------------------|
E|-----------------------|-------------------|

    F            C          G
         __ __       __         __     
    |   |  |  |  |  |  |    |  |  |  |  |
e|-----------13-12-10----|----------------|
B|(10)----------------13-|-12--------8----|
G|-----12s14----12-------|----------------|
D|(10)-------------------|-12-----9-------|
A|-----------------------|----------------|
E|-----------------------|----------------|


*:·..·:*¨¨*:·..·:*¨¨*:·..·:*¨¨*:·..·:*¨¨*:·..·:*¨¨*:·..·:*


Key A
-----

    D            A          E        F#m    
         __ __       __         __       __ 
    |   |  |  |  |  |  |    |  |  |  |  |  |
e|-----------10--9--7--5-|-----7-------------|
B|-----------------------|s-9-----9-10--9--7-|
G|------9s11-----9--7--6-|-------------------|
D|-----------------------|s-9-------11--9--7-|
A|-----------------------|-------------------|
E|-----------------------|-------------------|

    D            A          E
         __ __       __         __     
    |   |  |  |  |  |  |    |  |  |  |  |
e|-----------10--9--7----|----------------|
B|-(7)----------------10-|--9--------5----|
G|------9s11-----9-------|----------------|
D|-(7)-------------------|--9-----6-------|
A|-----------------------|----------------|
E|-----------------------|----------------|


*:·..·:*¨¨*:·..·:*¨¨*:·..·:*¨¨*:·..·:*¨¨*:·..·:*¨¨*:·..·:*


Key E
-----

    A            E          B        C#m
         __ __       __         __       __ 
    |   |  |  |  |  |  |    |  |  |  |  |  |
e|------------5--4--2--0-|-----2-------------|
B|-----------------------|s-4-----4--5--4--2-|
G|------4s-6-----4--2--1-|-------------------|
D|-----------------------|s-4--------6--4--2-|
A|-----------------------|-------------------|
E|-----------------------|-------------------|

    A            E          B
         __ __       __         __     
    |   |  |  |  |  |  |    |  |  |  |  |
e|------------5--4--2----|----------------|
B|-(2)-----------------5-|--4--------0----|
G|------4s-6-----4-------|----------------|
D|-(2)-------------------|--4-----1-------|
A|-----------------------|----------------|
E|-----------------------|----------------|


*:·..·:*¨¨*:·..·:*¨¨*:·..·:*¨¨*:·..·:*¨¨*:·..·:*¨¨*:·..·:*


Key G
-----


    C            G          D        Em    
         __ __       __         __       __ 
    |   |  |  |  |  |  |    |  |  |  |  |  |
e|------------8--7--5--3-|-----5-------------|
B|-----------------------|s-7-----7--8--7--5-|
G|------7s-9-----7--5--4-|-------------------|
D|-----------------------|s-7--------9--7--5-|
A|-----------------------|-------------------|
E|-----------------------|-------------------|

    C            G          D
         __ __       __         __     
    |   |  |  |  |  |  |    |  |  |  |  |
e|------------8--7--5----|----------------|
B|-(5)-----------------8-|--7--------3----|
G|------7s-9-----7-------|----------------|
D|-(5)-------------------|--7-----4-------|
A|-----------------------|----------------|
E|-----------------------|----------------|

        
6ths - A Powerful Way to Play... - Robert Renman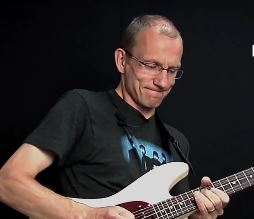 Robert is playing over a 4-1-5-6 chord progression in C. That leads to the following chords: F | C | G | Am but the second time he skips the Am, just stay on G twice as long as the first time.
He thinks of 6ths as a "cheat triad". You get most of the melodic power triads provide, but it's easier to move 6ths around the fretboard, since we're only playing 2 notes instead of 3.
By the way, it's called 6ths (or sixths) because the interval distance between the two notes is a 6th.
When you are ready to learn with Robert go to
https://www.masterguitaracademy.com.
He teaches music theory, blues, rock, funk, country, scales, chords, triads... and much more.
Robert's website lessons come with Soundslice, which makes it incredibly easy to learn. Both tab and video are synced together in one view on the screen.
Source: Master Guitar Academy

6ths - A Powerful Way to Play... - Robert Renman
6ths - A Powerful Way to Play... - Robert Renman
Adder:
Bill Charrette [ willc ]
Date:
5/10/2019
Tab By:
willc
Rated:

(1)

Hot!

Popular!

Views:
381
pdf Hits:
175
Genre:
Licks