Help Me Make It Through the...

[

Info ]
Audio, Chords & Tab

pdf
Help Me Make It Through the Night - Kris Kristofferson
* Audio file gathered from willc's personal music library
Help Me Make It Through the Night - Kris Kristofferson (4/4)

With/ Lady Antebellum from Skyville Live


Verse:
-----
                          A
Take the ribbon from your hair
                          D
Shake it loose and let it fall
                      E7
Layin' soft upon your skin
                        A
Like the shadows on the wall

Verse:
-----

Come and lay down by my side
Till the early mornin' light
All I'm takin' is your time
Help me make it through the night

Chorus:
------
                              D
I don't care what's right or wrong
                A
I don't try to understand
                   B7
Let the devil take tomorrow
                        E
'Cause tonight I need a friend

Verse:
-----

But yesterday is dead and gone
And tomorrow's out of sight
And it's sad to be alone
Help me make it through the night

Solo:  A,  D,  E7,  A
----

Chorus:
------

I don't care what's right or wrong
I don't try to understand
Let the devil take tomorrow
'Cause tonight I need a friend

Verse:
------

'Cause yesterday is dead and gone
And tomorrow's out of sight
And it's sad to be alone
Help me make it through the night

Chorus:
------

I don't wanna be alone
Help me make it through the night
        
Help Me Make It Through the... - Kris Kristofferson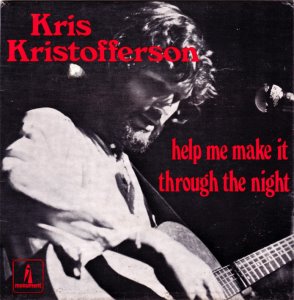 "Help Me Make It Through The Night" is a country music ballad written and composed by Kris Kristofferson and released on his 1970 album Kristofferson.
Kristofferson said that he got the inspiration for the song from an Esquire magazine interview with Frank Sinatra. When asked what he believed in, Frank replied, "Booze, broads, or a bible...whatever helps me make it through the night."
During his time as a struggling songwriter, Kristofferson wrote the song while staying with Dottie West and her husband, Bill, at their home on Shy's Hill Road in Nashville's Green Hills neighborhood. When he offered Dottie the song, she originally claimed it was "too suggestive" for her. Eventually, she would record it before the year was out, and it is included on her album Careless Hands. However, by then, several others had recorded and released versions of it, some garnering great success. Later on, West said that not recording it when it was originally offered to her was one of the greatest regrets of her career.
Video:
https://www.youtube.com/watch?v=ATrt1qUNUZI
Source: Wikipedia, the free encyclopedia

Help Me Make It Through the... - Kris Kristofferson
Help Me Make It Through the... - Kris Kristofferson
Adder:
Bill Charrette [ willc ]
Date:
1/6/2019
Updated:
2/28/2019
Tab By:
willc
Rated:

(1)

Hot!

Popular!

Views:
752
pdf Hits:
300
Genre:
Country