California Dreamin'
California Dreamin' - The Mamas and The Papas
* Audio file gathered from willc's personal music library
California Dreamin' - The Mamas and The Papas (4/4 - Capo 4th Fret)

Intro:
-----                                                E7sus4
    _   _   _   _     _   _   _   _     _   _   _
   | | | | | | | |   | | | | | | | |   | | | | | | |   |
e|-----------------|-----0-1-0-------|---------------|-0---------|
B|-----0---3-1---0-|-----------1-3p0-|-1---3-1-0-----|-0---------|
G|---2---2---------|---2-------------|-2---------2-0-|-2---------|
D|-2---------------|-2---------------|---2-----------|-0---------|
A|-----------------|-----------------|---------------|-2---------|
E|-----------------|-----------------|---------------|-0---------|


Verse 1:
-------
                  [Am  G][F          G    ]  E7sus4 [E7 '
All the leaves are brown  and the sky is gray
  '       F   ] [C  E ][Am         F  ]  E7sus4  E7
I've been for a walk       on a winter's day
                [ Am  G][F     G   ]    E7sus4   E7
I'd be safe and warm    if I was in L.A.
[Am   G  ][ F          G           ]    E7sus4   E7
California dreamin' on such a winter's day


Verse 2:
-------
                  [Am  G][F          G    ]  E7sus4 [E7 '
Stopped in to a church     I passed along the way
       '        F ]  [C  E ] [Am       F  ]  E7sus4  E7
Well I got down on my knees   and I pretend to pray
                [ Am         G][F     G            ]  E7sus4   E7
You know the preacher liked the cold He knows I'm gonna stay
[Am   G  ][ F          G           ]    E7sus4   E7
California dreamin' on such a winter's day


Instrumental:
------------

   Am           Am                 Am

e|-0----------|-0--0--0--0--0--0-|-0----------|
B|-1----------|-0--1--3--1--0--1-|-1----------|
G|-2----------|-2--2--2--2--2--2-|-2----------|
D|-2----------|------------------|-2----------|
A|-0----------|------------------|-0----------|
E|------------|------------------|------------|

[Am  F]  [C  E]  [Am  F]  E7sus4  E7
[Am  G]  [F  G]  E7sus4   E7
[Am  G]  [F  G]  E7sus4   E7


Verse 3:
-------
                  [Am  G][F          G    ]  E7sus4 [E7 '
All the leaves are brown  and the sky is gray
 '        F   ] [C  E ][Am         F  ]  E7sus4  E7
I've been for a walk       on a winter's day
               [ Am  G][F     G   ]    E7sus4   E7
If I didn't tell her   I could leave today


Outro:
-----

[Am   G ] [F           G                ]
California dreamin' on such a winter's day
[Am   G ] [F           G                ]
California dreamin' on such a winter's day
[Am   G ] [F           G                ]
California dreamin' on such a winter's day
        
California Dreamin' - The Mamas and The Papas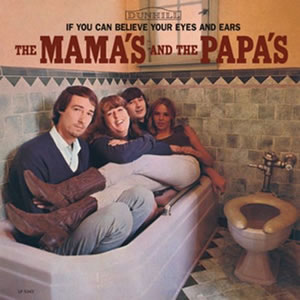 "California Dreamin'" is a song written in 1963 while John Phillips and Michelle Phillips were living in New York City. He dreamed about the song and woke her up to help him write it. At the time, John and Michelle Phillips were members of the folk group the New Journeymen, which evolved into the Mamas & the Papas.
They earned their first record contract after being introduced to Lou Adler, the head of Dunhill Records, by Barry McGuire. In thanks to Adler, they sang the backing vocals to "California Dreamin'" with members of the session band The Wrecking Crew on McGuire's album "This Precious Time". The Mamas & the Papas then recorded their own version using the same instrumental and backing vocal tracks to which they added new vocals and an alto flute solo by Bud Shank, which was thought to be the inspiration for the main theme of Andrew Lloyd Webber's tune for "Memory". P. F. Sloan performed the guitar introduction. McGuire's original vocal can be briefly heard on the left channel at the beginning of the record, having not been completely erased.
1st recording of California Dreamin' - Barry McGuire. Different lead singer but the same backing track as the Mamas & Papas hit version except for the harmonica solo. -
https://www.youtube.com/watch?v=5W2se8MMqwo.
Source: Wikipedia, the free encyclopedia

California Dreamin' - The Mamas and The Papas
California Dreamin' - The Mamas and The Papas
Adder:
Bill Charrette [ willc ]
Date:
12/5/2018
Updated:
2/23/2020
Tab By:
willc
Rated:

(1)

Hot!

Popular!

Views:
952
pdf Hits:
420
Genre:
Folk