SRV Pride & Joy Guitar...

[

Info ]
Audio, Chords & Tab

pdf
SRV Pride & Joy Guitar Lick - Robert Renman
* Audio file extracted from Robert Renman's website
SRV Pride & Joy Guitar Lick - Robert Renman (4/4 - Key E)

Key E:
-----
    ___ ___     ___ ___         ___ ___ 
   |   |   |   |   |   |   |   |   |   |
e|--------12-----------------------------|
B|----12------12--15--12-----------------|
G|14b---------------------14b-12--14-----|
D|------------------------------------14-|
A|---------------------------------------|
E|---------------------------------------|


*:·..·:*¨¨*:·..·:*¨¨*:·..·:*¨¨*:·..·:*¨¨*:·..·:*¨¨*:·..·:*


Key E (One Octave Lower):
-----
    ___ ___     ___ ___         ___ ___ 
   |   |   |   |   |   |   |   |   |   |
e|---------0-----------------------------|
B|-----0-------0---3---0-----------------|
G|-2b----------------------2b--0---2-----|
D|-------------------------------------2-|
A|---------------------------------------|
E|---------------------------------------|

        
SRV Pride & Joy Guitar... - Robert Renman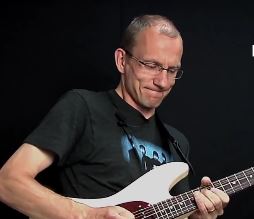 Guitar Lesson Overview
A typical Stevie Ray Vaughan style lick, a guitar lick he often played, especially over the song Pride and Joy.
Also check out the ending of his solo in the tune Empty Arms, about 2:40 into the song. Sounds familiar?
Make note of where the first note starts in time - it's not on the 4 and or the 1 - it's starting with a syncopated note. That's one reason it sounds so cool.
I used the Line HD500 for the guitar tone, and my Squire Strat with Porter Pickups.
Source: YouTube

SRV Pride & Joy Guitar... - Robert Renman
SRV Pride & Joy Guitar... - Robert Renman
Adder:
Bill Charrette [ willc ]
Date:
11/29/2016
Updated:
12/7/2016
Tab By:
willc
Rated:

(3)

Hot!

Popular!

Views:
802
pdf Hits:
388
Genre:
Licks