Say Something (Fingerstyle)

[

Info ]
Say Something (Fingerstyle) - Kelly Valleau
* Audio file gathered from willc's personal music library
Say Something (Fingerstyle) - Kelly Valleau (12/8 - Capo 2nd Fret)

Arranged By: Kelly Valleau

Intro:

     |     |     |     |
e|-------------------------|
B|---1-----1-----1-----1---|
G|-------------------------|
D|-------------------------|
A|-------------------------|
E|-------------------------|

     Am          Fmaj7         C           G

     |     |     |     |       |     |     |     |
e|-------------------------|-------------------------|
B|---1-----1-----1-----1---|---1-----1-----1-----1---|
G|---2-----------2---------|---0-----------0---------|
D|---2-----------3---------|---2-----------0---------|
A|---0---------------------|---3---------------------|
E|-------------------------|---------------3---------|

Chorus 1:

   Am                           C           G

   |   | | | | | | | | | |      |     |     |     |
e|-------------------------|-------------------------|
B|-1-----------------------|----1-----1-----1-----1--|
G|-2-----------------------|----0-----------0--------|
D|-2---0h2-0-0-0-0-2-0-----|----2-----------0--------|
A|-0-------------------3-3-|-------------------------|
E|-------------1-----------|----------------3--------|
   Say something, I'm giving up on you

   Am                           C           G

   |   | | | | | | | | | |      |     |     |     |   
e|-------------------------|-------------------------|
B|-1-----------------------|----1-----1-----1-----1--|
G|-2-----------------------|----0-----------0--------|
D|-2---0h2-0-0-0-0-2-0-----|----2-----------0--------|
A|-0-------------------3-3-|-------------------------|
E|-------------1-----------|----------------3--------|
   I'll be the one, if you want me to

   Am         Fmaj7             C           G
                  _
   |   | | | |   | | | | |      |     |     |     |  
e|-------------------------|-------------------------|
B|-1-----0-1---------------|----------1-----1-----1--|
G|-2---2---------------0---|----------------0--------|
D|-2---2-----3---3-3-3---2-|----------------0--------|
A|-0-----------------------|----3--------------------|
E|-------------------------|----------------3--------|
   Anywhere, I would've followed you

   Am     Bbmaj7             C         G

   |   | | | | | | | |   |   |   |     |      |    |  
e|-----0---------0---------|-------------------------|
B|-1---1-3-3-3-3---3-1---1-|-----1-----1------1------|
G|-2---2-----2-----2-------|-----------0-----------0-|
D|-2---2-----3-----3-------|-----------0-------------|
A|-0-----------------------|-3-----------------------|
E|-------------------------|-----------3-------------|
   Say something, I'm giving up on you.

Verse 1:

   C                         Em
    _ 
   | | |   |   |   | | | |   |     |     |     | | |
e|-----------------------0-|-------------------------|
B|-0h1---------------1-3---|-0-------------------1-1-|
G|-0---------------0-0-----|-0-----------------------|
D|-2-----------------2-----|-2-----------------------|
A|-3-------3---3-----3-----|-------------------------|
E|-------------------------|-0-----0-----0-----0-----|
   And I     am feeling so   small.              It was

   F                            C         G
                   _       _
   | | | |    |   | | | | | |   |   |     |      |    |
e|----------------------------|-------------------------|
B|-1--------------------------|-----1-----1------1------|
G|-2-2-2-2------------2-0-2---|-----------0-----------0-|
D|-3-----3------------3-----2-|-----------0-------------|
A|----------------3-3-3-------|-3-----------------------|
E|-1-----1----1---------------|-----------3-------------|
   over my head   I know nothing at all.

   C                         Em
    _ 
   | | |   |   |   | | | |   |     |     |     | | |
e|-----------------------0-|-------------------------|
B|-0h1---------------1-3---|-0-------------------1-1-|
G|-0---------------0-0-----|-0-----------------------|
D|-2-----------------2-----|-2-----------------------|
A|-3-------3---3-----3-----|-------------------------|
E|-------------------------|-0-----0-----0-----0-----|
   And I will     stumble and fall.              I'm still

   F                            C         G
                   _       _
   | | | |    |   | | | | | |   |   |     |      |    |
e|----------------------------|-------------------------|
B|-1--------------------------|-----1-----1------1------|
G|-2-2-2-2------------2-0-2---|-----------0-----------0-|
D|-3-----3------------3-----2-|-----------0-------------|
A|----------------3-3-3-------|-3-----------------------|
E|-1-----1----1---------------|-----------3-------------|
   learning to love   Just starting to crawl.

Chorus 2:

   Am    Bbmaj7              C         G

   |   | | | | | | | |   |   |   |     |      |    |
e|-----0---------0---------|-------------------------|
B|-1---1-3-3-3-3---3-1---1-|-----1-----1------1------|
G|-2---2-----2-----2-------|-----------0-----------0-|
D|-2---2-----3-----3-------|-----------0-------------|
A|-0-----------------------|-3-----------------------|
E|-------------------------|-----------3-------------|
   Say something, I'm giving up on you.

   Am (x)   Bbmaj7                 C         G
       _       _
   |  | | | | | | | | | | | | |    |    |    |    |   |
e|--------0-----------0---------|------------------------|
B|-1--------3-3-3---3---3---1-1-|-------1----1----1------|
G|-2--2-2-----------------------|------------0--------0--|
D|-2------2-------3-------3-----|------------0-----------|
A|-0----------------------------|--3---------------------|
E|------------------------------|------------3-----------|
   I'm sorry that I couldn't get to you.

   Am        Fmaj7           C         G
                  _ 
   |   | | | |   | | | | |   |    |    |    |    |
e|-------------------------|-----------------------|
B|-1-----0-1---------------|------1----1----1------|
G|-2---2---------------0---|-----------0---------0-|
D|-2---2-----3---3-3-3---2-|-----------0-----------|
A|-0-----------------------|-3---------------------|
E|-------------------------|-----------3-----------|
   Anywhere, I will follow you.

   Am    Bbmaj7              C         G

   |   | | | | | | | |   |   |   |     |      |    |
e|-----0---------0---------|-------------------------|
B|-1---1-3-3-3-3---3-1---1-|-----1-----1------1------|
G|-2---2-----2-----2-------|-----------0-----------0-|
D|-2---2-----3-----3-------|-----------0-------------|
A|-0-----------------------|-3-----------------------|
E|-------------------------|-----------3-------------|
   Say something, I'm giving up on you.

Verse 2: (beat change 1/2 verse)

   C                         Em
    _                                             _
   | | |  |    |   | | | |   |   | | | | | | |   | |
e|-----------------------0-|-------------------------|
B|-0h1---------------1-3---|-----0---------------1-1-|
G|-0---------------0-0-----|-----0-------------------|
D|-2-----------------2-----|-----2-------------------|
A|-3-----------------3-----|-------------------------|
E|-------------------------|-0-----------------------|
   And I will swallow     my pride               You're the

   F                           C       G
                  _       _                         _
   | | | | | | | | | | | | |   |   |   |         | | |
e|---------------------------|-------------------------|
B|-1-------------------------|-----1---1---------0-----|
G|-2-2-2-2-----------2-0-2---|---------0---------0-0-0-|
D|-3-----------------3-----2-|---------0---------0-----|
A|---------------3-3-3-------|-3-----------------------|
E|-1-------------------------|---------3---------------|
   one that I love and I'm saying goodbye.

Chorus 3:

   Am      Bbmaj7            C           G

   |   | | | | | | | |   |   |     | | | |     |   |
e|-----0---------0---------|-------------------------|
B|-1---1-3-3-3-3---3-1---1-|-------1-1-1-1-----1-----|
G|-2---2-----2-----2-------|-------0-----0-----0---0-|
D|-2---2-----3-----3-------|-------2-----0-----0-----|
A|-0-----------------------|-3-----------------------|
E|-------------------------|-------------3-----------|
  Say something, I'm giving up on you.

   Am (x)   Bbmaj7                C           G
       _       _
   |  | | | | | | | | | | | | |   |     | | | |     |   |
e|--------0-----------0---------|-------------------------|
B|-1--------3-3-3---3---3---1-1-|-------1-1-1-1-----1-----|
G|-2--2-2-----------------------|-------0-----0-----0---0-|
D|-2------2-------3-------3-----|-------2-----0-----0-----|
A|-0----------------------------|-3-----------------------|
E|------------------------------|-------------3-----------|
   I'm sorry that I couldn't get to you.

   Am (change)   F                 C          G
              _       _                          _   _ 
   |   | | | | | |   | | | | | |   |   |  |   | | | | | |  |
e|-------------1-----1-1-1-3-1p0-|--------0-------0h1p0------|
B|-1-------0-1-----------1-------|-----1--------1-------1----|
G|-2---2-2---------------2-------|-----0----------------0--0-|
D|-2-----2-------3-------3-------|-----2----------------0----|
A|-0-----------------------------|-3-------------------------|
E|-------------------------------|------------3--------------|
   Anywhere, I would've followed you.

   Am      Bbmaj7            C           G

   |   | | | | | | | |   |   |     | | | |     | | |
e|-----0---------0---------|-------------------------|
B|-1---1-3-3-3-3---3-1---1-|-------1-1---1-----1-----|
G|-2---2-----2-----2-------|-------0---0-0-----0-0---|
D|-2---2-----3-----3-------|-------2-----0-----0---0-|
A|-0-----------------------|-3-----------------------|
E|-------------------------|-------------3-----------|
   Say something, I'm giving up on you.

Outro:

   Am                           C     G

   |   | | | | | | | | | |      |     |     |     |
e|-------------------------|------------------------|
B|-1-----------------------|----1-----1-----1-----1-|
G|-2-----------------------|----------0-------------|
D|-2---0h2-0-0-0-0-2-0-----|----------0-------------|
A|-0-------------------3-3-|------------------------|
E|-------------1-----------|----------3-------------|
   Say something, I'm giving up on you.

   Am        Fmaj7           C

   | | | | | |
e|-------------------------|-------------------------|
B|-1---------1-------------|-1-----------------------|
G|-2---------2-------------|-0-----------------------|
D|-2---2-0-0-3-------------|-2-----------------------|
A|-0-----------------------|-3-----------------------|
E|-------------------------|-------------------------|


YouTube Video (Arranged By Kelly Valleau):
https://www.youtube.com/watch?v=t5nt9L9TwlQ
        
Say Something (Fingerstyle) - Kelly Valleau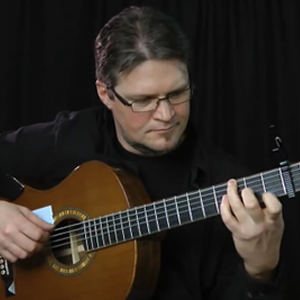 "Say Something" is a song by American indie pop duo A Great Big World from their debut album, Is There Anybody Out There? (2013). Written by the duo members—Ian Axel and Chad King—alongside Mike Campbell, the song was originally recorded by Axel for his solo album This Is the New Year (2011). It was later released as a single by the duo on September 3, 2013, by Epic Records. Following its usage on American reality TV show So You Think You Can Dance, the track gained attention from singer Christina Aguilera, who wanted to collaborate with A Great Big World on the song. Quickly afterwards, a re-recorded version of "Say Something" with Aguilera was released on November 4, 2013.
*:·..·:*¨¨*:·..·:*¨¨*:·..·:*¨¨*:·..·:*¨¨*:·..·:*¨¨*:·..·:*
Arranged By:
KellyValleau. Kelly Valleau was born and raised in Belleville, Ontario and started playing guitar at 15 and by 21 had made his first CD. By 22 Kelly was playing professionally in and around Ontario, Quebec and New York.
One day Kelly Valleau entered the Canadian finger style guitar championship...to his surprise placed second at this international competition. This to hung up the electric guitar and grab the nylon string acoustic guitar, next lend a record deal with Candyrat Records
Kelly Valleau is multi-dimensional guitarist who has forged a unique solo guitar style, firmly rooted in classical composition with modern guitar techniques. He easily moves between different styles from traditional classical/flamenco guitar, pop music to jazz standards.
Kelly is also a teacher. He offers online lessons and own arrangements through his website.
Kelly Valleau Video:
https://www.youtube.com/watch?v=t5nt9L9TwlQ
A Great Big World, Christina Aguilera Video:
https://www.youtube.com/watch?v=-2U0Ivkn2Ds
Source: String Training - Kelly Villeau

Say Something (Fingerstyle) - Kelly Valleau
Say Something (Fingerstyle) - Kelly Valleau
Adder:
Bill Charrette [ willc ]
Date:
8/23/2015
Updated:
6/21/2019
Tab By:
willc
Rated:

(10)

Hot!

Popular!

Views:
992
pdf Hits:
429
Genre:
Pop