BB King Blues Lick - Worry...

[

Info ]
Audio, Chords & Tab

pdf
BB King Blues Lick - Worry Worry - Robert Renman
* Audio file extracted from Robert Renman's website
BB King Blues Lick - Worry Worry - Robert Renman (4/4 - Key A)

Key A:
-----

MINOR (Box 3)
        ___ ___     __  ___ 
   |   |   |   |   |   |   |   |
e|12b-12--10--12-----------------|
B|----------------13--10--10--13-|
G|-------------------------------|
D|-------------------------------|
A|-------------------------------|
E|-------------------------------|
        
BB King Blues Lick - Worry... - Robert Renman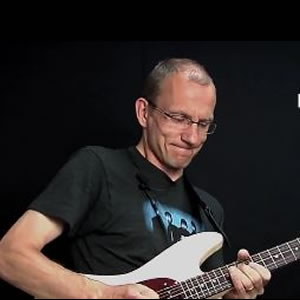 Guitar Lesson Overview
Here is a sweet BB King lick from the song Worry Worry. This one is great to have on the shelf of classic licks! Learn it in all keys.
It's fun to experiment with the timing of the notes - almost anything can work, especially if you get the last note on a good place, timing-wise.
This lick is played in the key of A. Check out BB King's playing on Worry, Worry - great stuff!
Source: DolphinStreet.com

BB King Blues Lick - Worry... - Robert Renman
BB King Blues Lick - Worry... - Robert Renman
Adder:
Bill Charrette [ willc ]
Date:
9/11/2014
Tab By:
willc
Rated:

(4)

Hot!

Popular!

Views:
1066
pdf Hits:
459
Genre:
Licks