Boom Boom (John Lee Hooker)...

[

Info ]
Audio, Chords & Tab

pdf
Boom Boom (John Lee Hooker) Lick - Robert Renman
* Audio file extracted from Robert Renman's website
Boom Boom (John Lee Hooker) Lick - Robert Renman (4/4 - Key E)

Key E: (12 Bar Progression)
-----

   E
    _   _   _   _     _   _   _   _ 
   | | | | | | | |   | | | | | | | |
e|-----------------|-----0-0---------|
B|-------3---------|-----0-0-0---2---|
G|----s4--s2-0-----|-----1-1-0---2---|
D|-------------2-0-|-----2-2-0---2---|
A|-----------------|-----2-2-2---0---|
E|-0---------------|-0-------3-----3-|

   E
    _   _   _   _     _   _   _   _
   | | | | | | | |   | | | | | | | |
e|-----------------|-----0-0---------|
B|-----------------|-----0-0-0---2---|
G|-----0-2br-0-----|-----1-1-0---2---|
D|---2---------2-0-|-----2-2-0---2---|
A|-----------------|-----2-2-2---0---|
E|-0---------------|-0-------3-----3-|

   A
    _   _   _   _     _   _   _   _ 
   | | | | | | | |   | | | | | | | |
e|-----------------|-----------------|
B|-----3-0---------|-----2-2---------|
G|--------s2-0-----|-----2-2---------|
D|-------------2-0-|-----2-2---------|
A|-----------------|-0-----0-3---5-3-|
E|-0---------------|-----------------|

   E
    _   _   _   _     _   _   _   _
   | | | | | | | |   | | | | | | | |
e|-----------------|-----0-0---------|
B|-----------------|-----0-0-0---2---|
G|-----2b--2-0-----|-----1-1-0---2---|
D|-------------2-0-|-----2-2-0---2---|
A|-0---------------|-----2-2-2---0---|
E|-----------------|-0-------3-----3-|

   B 
    _   _   _   _     _   _   _   _
   | | | | | | | |   | | | | | | | |
e|-------0---------|-----------------|
B|-----------------|-----------------|
G|----s4--s2-0-----|-----2-2---------|
D|-------------2-0-|-----1-1-0---2-0-|
A|-----------------|-2---2-2---------|
E|-0---------------|-----------------|

   A                 E
    _   _   _   _     _   _   _   _ 
   | | | | | | | |   | | | | | | | |
e|-----------------|-----0-0---------|
B|-----------------|-----0-0-0---2---|
G|-----2b--2-0-----|-----1-1-0---2---|
D|-------------2-0-|-----2-2-0---2---|
A|-2---------------|-----2-2-2---0---|
E|-----------------|-0-------3-----3-|

Boom, boom, boom, boom
I'm gonna shoot you right down
Right off your feet
Take you home with me
Put you in my house

Boom, boom, boom, boom
I love to see you strut
Up and down the floor
And when you talking to me that baby talk

I like it like that
Oh, when you talk like that
You knocks me out
Right off of my feet
Hoo, hoo, hoo, whoa, yeah

Walk the walk baby
Talk that talk right now
And talk that talk right now, baby
Whoa, yeah

And talk that talk
And walk that walk
Walk the walk, baby
And talk that talk

And you whisper in my ear
I can't take it like that
You knocks me out
And when you talk like that
I can't take it like that

Oh, when you talk like that
You knocks me out
Right off of my feet
Hmm, hmm, hmm, hoo, hoo, hoo

Walk the walk baby
Talk that talk right now baby
You can talk that talk, baby
Talk that talk, that baby talk

Can't take it like that
No baby
        
Boom Boom (John Lee Hooker)... - Robert Renman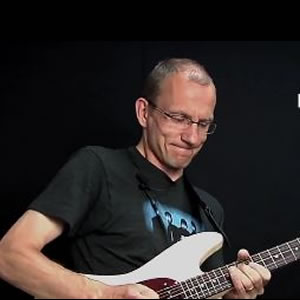 Cool Riffs 1 - Fun Guitar Riffs (three lessons in one)
Perhaps you are tired of playing scales and licks? Perhaps you just want to enjoy playing some rhythm and have some fun with cool and useful riffs? Well, then I think you will enjoy these 3 lessons.
This is beginner to intermediate level – fun riffs to play that will be challenging for a complete beginner and just plain fun for an intermediate player. There are many techniques covered in these lessons; techniques that even intermediate players may need to work on.
What's in this lesson?
I have gone to great length to make these lessons very clear. Right hand camera angle (except for 1 riff), TAB on screen and everything you need to know is explained. TAB is also included as PDFs. Guitar Pro 6 users will enjoy the GP6 files included.
1.Rockin My Blues 1 & 2 – 43 minute lesson on Texas Blues riffing. Rockin My Blues 2 is on DVD only.
2.Boom Boom – 17 minute lesson on John Lee Hooker style Boom Boom riffing.
3.Sharp Dressed Riff – 12 minute lesson on ZZ Top style Sharp Dressed Man riffing.
Source: MasterGuitarAcadamy.com

Boom Boom (John Lee Hooker)... - Robert Renman
Boom Boom (John Lee Hooker)... - Robert Renman
Adder:
Bill Charrette [ willc ]
Date:
11/23/2013
Updated:
3/4/2014
Tab By:
willc
Rated:

(3)

Hot!

Popular!

Views:
923
pdf Hits:
393
Genre:
Licks