Southern Rock Licks (168)
Southern Rock Licks (168) - Neal Walter
* Audio file extracted from Neal Walter's website
Southern Rock Licks (168) - Neal Walter (4/4 - Key A)

Key A:
-------


(\__/)
(=''=)  Main Lick - Open "A" Position:
(")(")  -----------------------------

     ___     ___     ___     ___       ___     ___     ___     ___ 
    |   |   |   |   |   |   |   |     |   |   |   |   |   |   |   |
e|---------------------------------|---------------------------------|
B|--2---------------2---2----------|--2---------------2---2----------|
G|--2---------------2---2----------|--2---------------2---2----------|
D|--2---------------2---2----------|--2---------------2---2----------|
A|--0-------3h--4------------------|--0-------3h--4------------------|
E|--X------------------------------|--X------------------------------|




(\__/)
(=''=)  Embellishment 1:
(")(")  ---------------


Key A:
-----
     ___     ___     ___     ___ 
    |   |   |   |   |   |   |   |
e|---------------------------------|
B|--5-------6---5---5--------------|
G|--5-------5---5---5--------------|
D|--5-------7---5---5--------------|
A|---------------------------------|
E|---------------------------------|




(\__/)  
(=''=)  Embellishment 2 (Southern Rock Lick - Jody Worrell):
(")(")  ---------------------------------------------------


Southern Rock Lick is a free video guitar lesson by Jody Worrell that will teach
you how to play a lick in the key of D. The use of double stops and syncopation
in this lick really give it the feel of a Lynyrd Skynyrd riff. Check out the tab
and try practicing the lick along with Jody.


Key D:
-----

     ___     ___     ___ ___ ___       ___     ___     ___     ___ 
    |   |   |   |   |   |   |   |     |   |   |   |   |   |   |   |
e|---------------------------------|---------------------------------|
B|---------------------------------|---------------------------------|
G|--7-------7-----------7----------|--7-s10s--9-------7--------------|
D|--7-------7-----------7----------|--7-s10s--9-------7--------------|
A|--------------8---9-------8---9--|---------------------------------|
E|---------------------------------|---------------------------------|


*:·..·:*¨¨*:·..·:*¨¨*:·..·:*¨¨*:·..·:*¨¨*:·..·:*¨¨*:·..·:*


Key A (Transposed - Original Key D):
-----

     ___     ___     ___ ___ ___       ___     ___     ___     ___ 
    |   |   |   |   |   |   |   |     |   |   |   |   |   |   |   |
e|---------------------------------|---------------------------------|
B|---------------------------------|---------------------------------|
G|--2-------2-----------2----------|--2--s5s--4-------2--------------|
D|--2-------2-----------2----------|--2--s5s--4-------2--------------|
A|--------------3---4-------3---4--|---------------------------------|
E|---------------------------------|---------------------------------|


Lesson: http://www.freeguitarvideos.com/southern-rock/southern-rock-lick.html




(\__/)  Embellishment 3 (Pedal Steel Guitar Example - Neal Walter):
(=''=)  ----------------------------------------------------------
(")(")  http://www.guitartricks.com/lesson.php?input=18626


    ___     ___     ___     ___ 
   |   |   |   |   |   |   |   |
e|-------------------------------|
B|-8-------8---8---8---8---8---8-|
G|-7b------7br-5---7---7b--7br-5-|
D|-------------------------------|
A|-------------------------------|
E|-------------------------------|




(\__/)
(=''=)  All Together:  
(")(")  ------------



D/A Position:
------------

You know this is in the D Position because it is pulled out of this D Barr Chord
shape - you bar the B, G and D strings at the 7th fret with your index finger
and mute the A string with the end of your index finger and the E string with
your thumb - all you get is the chord and none of the lower strings.


    D (Main Lick)                     Embellishment 1 (At 'A' Position)
     ___     ___     ___     ___       ___     ___     ___     ___ 
    |   |   |   |   |   |   |   |     |   |   |   |   |   |   |   |
e|---------------------------------|---------------------------------|
B|--7---------------7---7----------|--7-------8---8---7--------------|
G|--7---------------7---7----------|--7-------7---7---7--------------|
D|--7---------------7---7----------|--7-------9---9---7--------------|
A|--X-------8h--9------------------|---------------------------------|
E|--X------------------------------|---------------------------------|
        
Southern Rock Licks (168) - Neal Walter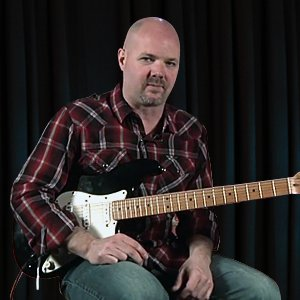 There is a lot of great ways to use this embellishment. It's really handy especially if you are playing major sounding chords or southern rock style guitar.
If you're into blues rock or chicken fried rock, this is a must-have lick to add to your arsenal. It's very easy and comfortable, and you can move it anywhere on the neck. You'll hear artists like Slash, Rolling Stones and Lynyrd Skynyrd use this handy lick often. Dive on in!
The cool thing about these licks is that they are totally moveable as long as you mute/play the strings correctly.
YouTube Lesson:
http://www.youtube.com/watch?v=GlDxw6YQ38E
Source: GuitarTricks.com

Southern Rock Licks (168) - Neal Walter
Southern Rock Licks (168) - Neal Walter
Adder:
Bill Charrette [ willc ]
Date:
9/9/2013
Tab By:
willc
Rated:

(2)

Hot!

Popular!

Views:
811
pdf Hits:
430
Genre:
Quick Licks