Blues Rhythm Lesson Chucky
Blues Rhythm Lesson Chucky - Robert Renman
* Audio file extracted from Robert Renman's website
Blues Rhythm Lesson Chucky - Robert Renman (4/4 - Key E)

Key E:
-----


   E7
    _   _   _   _     _   _   _   _     _   _   _   _     _   _   _   _
   | | | | | | | |   | | | | | | | |   | | | | | | | |   | | | | | | | |
e|-----0---0-0---0-|-----------------|-----0---0-0---0-|-----------------|
B|-----3---3-3---3-|-----------------|-----3---3-3---3-|-----------------|
G|-----1---1-1---1-|-----------------|-----1---1-1---1-|-----------------|
D|-----2---2-2---2-|-----------------|-----2---2-2---2-|-----------------|
A|-----2---2-2---2-|-----------------|-----2---2-2---2-|-----------------|
E|-0---0-X-0-0-X-0-|-----------0-3-4-|-0---0-X-0-0-X-0-|-----------0-3-4-|


   A7                                  E7
    _   _   _   _     _   _   _   _     _   _   _   _     _   _   _   _
   | | | | | | | |   | | | | | | | |   | | | | | | | |   | | | | | | | |
e|-----3---3-3---3-|-----------------|-----0---0-0---0-|-----------------|
B|-----2---2-2---2-|-----------------|-----3---3-3---3-|-----------------|
G|-----2---2-2---2-|-----------------|-----1---1-1---1-|-----------------|
D|-----2---2-2---2-|-----------------|-----2---2-2---2-|-----------------|
A|-0-----X-----X---|-----------0-----|-----2---2-2---2-|-------------0-1-|
E|-----------------|-------------3-2-|-0---------------|-----------0-----|


   B7                                  A7
    _   _   _   _     _   _   _   _     _   _   _   _     _   _   _   _
   | | | | | | | |   | | | | | | | |   | | | | | | | |   | | | | | | | |
e|-----2---2-2---2-|-----------------|-----3---3-3---3-|-----------------|
B|-----0---0-0---0-|-----------------|-----2---2-2---2-|-----------------|
G|-----2---2-2---2-|-----------------|-----2---2-2---2-|-----------------|
D|-----1---1-1---1-|-----------0-----|-----2---2-2---2-|-----------------|
A|-2---2-X-2-2-X-2-|-------------2-1-|-0-----X-----X---|-----------0-----|
E|-----------------|-----------------|-----------------|-------------3-2-|
           (Not part of lesson)
        
Blues Rhythm Lesson Chucky - Robert Renman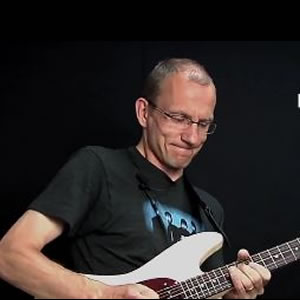 Guitar Lesson Overview
Here's Chucky! I sometimes give lessons a name just to make it easier to refer to them later.
This lesson is a good exercise in strumming the blues. You can use some gain on your guitar tone, but be careful to not have too much gain and distortion, since you are going to be playing whole chords and a lot of strumming.
Focus on 1) Timing and 2) Muting and 3) Up and Down with your right hand.
You will also need to work on letting the left hand lift off the fret board for muting. Don't take the left hand off the strings completely - leave them on so you can mute the strings.
Lesson:
http://www.dolphinstreet.com/guitar_video_lessons/lesson-147.php
Source: DolphinStreet.com

Blues Rhythm Lesson Chucky - Robert Renman
Blues Rhythm Lesson Chucky - Robert Renman
Adder:
Bill Charrette [ willc ]
Date:
5/28/2013
Tab By:
willc
Rated:

(4)

Hot!

Popular!

Views:
1082
pdf Hits:
473
Genre:
Quick Licks