Slow Blues Guitar Lesson...

[

Info ]
Audio, Chords & Tab

pdf
Slow Blues Guitar Lesson (Sakta Ned) - Robert Renman
* Audio file extracted from Robert Renman's website
Slow Blues Guitar Lesson (Sakta Ned) - Robert Renman (4/4 - Key A)

Chords played over a slow Blues shuffle


Key A:
-----


   A
    _ _ _   _    _   _     _ _ _   _    _   _     _ _ _   _    _   _
   | | | | | |  | | | |   | | | | | |  | | | |   | | | | | |  | | | |
e|----------------------|----------------------|----------------------|
B|-------------s7-5-----|-------------s7-5-----|-------------s7-5-----|
G|-------------s6-4-----|-------------s6-4-----|-------------s6-4-----|
D|-----2-4-----s7-5-----|-----2-4-----s7-5-----|-----2-4-----s7-5-----|
A|-3h4-----0-0----------|-3h4-----0-0----------|-3h4-----0-0----------|
E|----------------------|----------------------|----------------------|

   A                      D
    _ _ _   _    _   _     _ _ _   _    _   _     _ _ _   _    _   _
   | | | | | |  | | | |   | | | | | |  | | | |   | | | | | |  | | | |
e|----------------------|-------------s7-5-----|-------------s7-5-----|
B|-------------s7-5-----|-------------s7-5-----|-------------s7-5-----|
G|-------------s6-4-----|-------------s7-5-----|-------------s7-5-----|
D|-----2-4-----s7-5-----|-----2-4-0-0----------|-----2-4-0-0----------|
A|-3h4-----0-0----------|-3h4------------------|-3h4------------------|
E|----------------------|----------------------|----------------------|

   A                                             E
    _ _ _   _    _   _     _ _ _   _    _   _     _ _ _   _    _   _
   | | | | | |  | | | |   | | | | | |  | | | |   | | | | | |  | | | |
e|----------------------|----------------------|-------------s9-7-----|
B|-------------s7-5-----|-------------s7-5-----|-------------s9-7-----|
G|-------------s6-4-----|-------------s6-4-----|-------------s9-7-----|
D|-----2-4-----s7-5-----|-----2-4-----s7-5-----|-----2-4--------------|
A|-3h4-----0-0----------|-3h4-----0-0----------|-3h4------------------|
E|----------------------|----------------------|---------0-0----------|

   D                      A
    _   _        _   _     _ _ _   _    _   _     _ _ _   _    _   _
   | | | |      | | | |   | | | | | |  | | | |   | | | | | |  | | | |
e|-------------s7-5-----|----------------------|----------------------|
B|-------------s7-5-----|-------------s7-5-----|-------------s7-5-----|
G|-------------s7-5-----|-------------s6-4-----|-------------s6-4-----|
D|-2-1-0----------------|-----2-4-----s7-5-----|-----2-4-----s7-5-----|
A|----------------------|-3h4-----0-0----------|-3h4-----0-0----------|
E|----------------------|----------------------|----------------------|
        
Slow Blues Guitar Lesson... - Robert Renman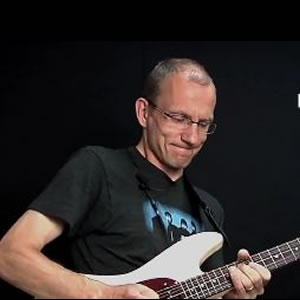 Guitar Lesson Overview
There are many ways to play blues guitar, but something few players spend time working on, is rhythm. Here is a great way to play chords over a 12 bar blues. It sounds great, it's easy to play, so why aren't more people learning this stuff? Beats me. You better learn it now huh!
http://MasterGuitarAcademy.com
- Join Robert Renman for new quality lessons every week!
Source: DolphinStreet.com

Slow Blues Guitar Lesson... - Robert Renman
Slow Blues Guitar Lesson... - Robert Renman
Adder:
Bill Charrette [ willc ]
Date:
5/16/2013
Tab By:
willc
Rated:

(1)

Hot!

Popular!

Views:
696
pdf Hits:
356
Genre:
Licks