Stevie Ray Vaughan Style Lick
Stevie Ray Vaughan Style Lick - Jody Worrell
* Audio file extracted from Jody Worrell's website
Stevie Ray Vaughan Style Lick - Jody Worrell (4/4 - Key A)

Key A:
-----


   Dm7
     ___ ___ ___    ___    ___ ___      ___ ___    ___ ___ ___    ___ 
    |   |   |   |  |   |  |   |   |    |   |   |  |   |   |   |  |   |
e|---------10------------10----------|----------------------------------|
B|-----10------13-13b--------13p--10-|----------------------------------|
G|-12b-------------------------------|12br(12)p10--------10vv--9s7-9s7--|
D|-----------------------------------|------------12p-10----------------|
A|-----------------------------------|----------------------------------|
E|-----------------------------------|----------------------------------|


   Am7
     ___ ___ ___    ___    ___ ___      ___ ___    ___ ___ ___    ___ 
    |   |   |   |  |   |  |   |   |    |   |   |  |   |   |   |  |   |
e|-----------------5-----------------|----------------------------------|
B|-----------------5-----------------|----------------------------------|
G|-(7)p-5----------5-----------------|----------------------------------|
D|----------7---5-------------5---7--|(7)-------------------------------|
A|------------------------7----------|----------------------------------|
E|-----------------------------------|----------------------------------|



*:·..·:*¨¨*:·..·:*¨¨*:·..·:*¨¨*:·..·:*¨¨*:·..·:*¨¨*:·..·:*



Key E (Transposed - Original Key A):
-----


   Am7
     ___ ___ ___    ___    ___ ___      ___ ___    ___ ___ ___    ___ 
    |   |   |   |  |   |  |   |   |    |   |   |  |   |   |   |  |   |
e|----------5-------------5----------|----------------------------------|
B|------5-------8--8b---------8p-10--|----------------------------------|
G|--7b-------------------------------|-7br(7)p-5----------5vv--4s2-4s2--|
D|-----------------------------------|------------7p--5-----------------|
A|-----------------------------------|----------------------------------|
E|-----------------------------------|----------------------------------|


   Em7
     ___ ___ ___    ___    ___ ___      ___ ___    ___ ___ ___    ___ 
    |   |   |   |  |   |  |   |   |    |   |   |  |   |   |   |  |   |
e|-----------------0-----------------|----------------------------------|
B|-----------------0-----------------|----------------------------------|
G|-(2)p-0----------0-----------------|----------------------------------|
D|----------2---0-------------0---2--|(2)-------------------------------|
A|------------------------2----------|----------------------------------|
E|-----------------------------------|----------------------------------|
        
Stevie Ray Vaughan Style Lick - Jody Worrell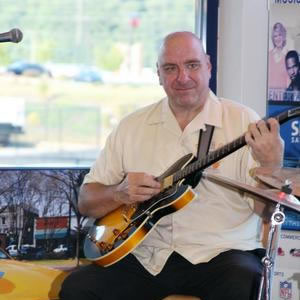 Stevie Ray Vaughan Style Lick by Jody Worrell is a free guitar lesson where you will learn a blues guitar lick in the style of the great Stevie Ray Vaughan.
The lick is in Am and uses bends, vibrato, pull offs, and slides. Jody will teach you how to play the lick with note by note instruction. You'll learn specific technique ideas, like muting at the top of the bend, that will help you recreate Stevie Ray's tone.
Use the video and tab together to get a good feel for how to play the lick correctly. After you've learned the lick, you'll have the opportunity to trade it back and forth with Jody along with the jam track.
Source: FreeGuitarVideos.com

Stevie Ray Vaughan Style Lick - Jody Worrell
Stevie Ray Vaughan Style Lick - Jody Worrell
Adder:
Bill Charrette [ willc ]
Date:
4/30/2013
Tab By:
willc
Rated:

(3)

Hot!

Popular!

Views:
987
pdf Hits:
460
Genre:
Licks