Okie From Muskogee

|

Okie From Muskogee - Merle Haggard
* Audio file gathered from BigGreenC's personal music library
Okie From Muskogee - Merle Haggard (4/4 )

Picking Pattern:
        _   _   _
   |   | | | | | |
e|-----------@-----|
B|-------@-------@-|
G|-----@-------@---|
D|-@-------@-------|
A|-@-------@-------|
E|-@-------@-------|
   Bass    Alt Bass



Introduction: D (4 times)


D                 D              D    D
We don't smoke marijuana in Muskogee;
   D              [b a g f#] A7       A7
We don't take our trips on LSD
A7                A7                  A7            A7
We don't burn our draft cards down on Main Street;
A7             [f# e d c#]       D       D
We like livin' right, and bein' free.


Chorus:
      D            D             D              D
I'm proud to be an Okie from Muskogee,
  D                D                  A7        A7
A place where even squares can have a ball
A7                A7                  A7        A7
We still wave Old Glory down at the courthouse,
    A7                        A7                D    D
And white lightin's still the biggest thril of all


We don't make a party out of lovin';
We like holdin' hands and pitchin' woo;
We don't let our hair grow long and shaggy,
Like the hippies out in San Francisco do.


Chorus


Leather boots are still in style for mainly footwear;
Beads and roman sandals won't be seen.
Football's still the roughest thing on campus,
And the kids here still respect the college dean.


We still wave Old Glory down at the courthouse,
In Muskogee, Oklahoma, USA.  
        
Info

Stats

Rate


Okie From Muskogee - Merle Haggard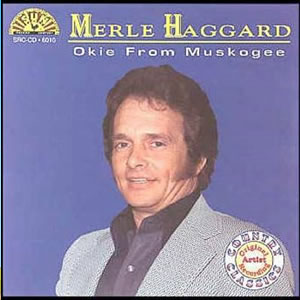 Okie from Muskogee is an American country music song performed by its co-writer, Merle Haggard. Released in September 1969, the song became one of the most famous of his career
Haggard told "The Boot" that he wrote the song after he became disheartened watching Vietnam War protests and incorporated that emotion and viewpoint into song. Haggard says, "When I was in prison, I knew what it was like to have freedom taken away. Freedom is everything. During Vietnam, there were all kinds of protests. Here were these [servicemen] going over there and dying for a cause — we don't even know what it was really all about. And here are these young kids, that were free, bitching about it. There's something wrong with that and with [disparaging] those poor guys." He states that he wrote the song to support the troops.
Critic Kurt Wolff wrote that Haggard always considered what became a redneck anthem to be a spoof, and that today fans — even the hippies that are derided in the lyrics — have taken a liking to the song and find humor in some of the lyrics. In fact, cover versions of the song have been recorded by such countercultural acts as the Grateful Dead, The Beach Boys and Phil Ochs.
Source: Wikipedia, The Free Encyclopedia


Okie From Muskogee - Merle Haggard

Okie From Muskogee - Merle Haggard
Adder:
Cindy Green [ BigGreenC ]
Date:
7/13/2012
Tab By:
willc
Rated:

(5)

Hot!

Popular!

Views:
761
pdf Hits:
361
Genre:
Country

|