Solo Licks 10 and 11

|

Solo Licks 10 and 11 - 12bar Blues Guitar
* Audio file extracted from contributor's website
Solo Licks 10 and 11 - 12bar Blues Guitar (4/4 - Key E )

Solo Lick 10:


Key E:
-----

   E
    ___    ___    ___    ___     ___    ___   ___ 
   |   |  |   |  |   |  |   |   |   |  |   | |   |
e|----15b-12---------12----------------------------|
B|12----------12-15b-------------------------------|
G|-------------------------14brp12-----12----------|
D|---------------------------------14-------14vv---|
A|-------------------------------------------------|
E|-------------------------------------------------|



   E (one octave lower than the above tab)
    ___    ___    ___    ___     ___    ___   ___ 
   |   |  |   |  |   |  |   |   |   |  |   | |   |
e|-----3b-0----------0-----------------------------|
B|-0----------0--3b--------------------------------|
G|--------------------------2brp0------0-----------|
D|----------------------------------2--------2vv---|
A|-------------------------------------------------|
E|-------------------------------------------------|


*:·..·:*¨¨*:·..·:*¨¨*:·..·:*¨¨*:·..·:*¨¨*:·..·:*¨¨*:·..·:*


Solo Lick 11:


Key E:
-----

   E
    ___    ___    ___    ___     ___    ___   ___ 
   |   |  |   |  |   |  |   |   |   |  |   | |   |
e|----15b-12---------12----------------------------|
B|12----------12-15b-------------------------------|
G|-------------------------14brp12-----12---13vvv--|
D|---------------------------------14--------------|
A|-------------------------------------------------|
E|-------------------------------------------------|



   E (one octave lower than the above tab)
    ___    ___    ___    ___     ___    ___   ___ 
   |   |  |   |  |   |  |   |   |   |  |   | |   |
e|-----3b-0----------0-----------------------------|
B|-0----------0--3b--------------------------------|
G|--------------------------2brp0------0-----1vvv--|
D|----------------------------------2--------------|
A|-------------------------------------------------|
E|-------------------------------------------------|
        
Info

Stats

Rate


Solo Licks 10 and 11 - 12bar Blues Guitar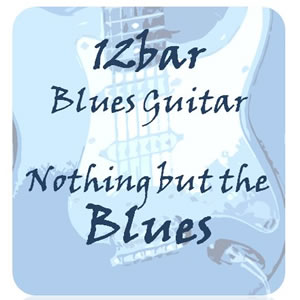 Solo Lick 10:
------------
A good way to learn how to put more feeling into your sound is trying to sound like a voice. Let's have a look at the example, The lick uses only the minor pentatonic ending with the root note. The vocal for this part could be something like "My baby left me, I cried all night". We play in the key of E, 12th fret.
*:·..·:*¨¨*:·..·:*¨¨*:·..·:*¨¨*:·..·:*¨¨*:·..·:*¨¨*:·..·:*
Solo Lick 11:
------------
This example ends with a note from the major scale. This gives a different color to this lick. The same vocal as above now sounds really like a question: "My baby left me, what going on?". This lick has an open end, it needs to be continued. If we use the A-A-B Blues structure, now part B must follow like "If she can't make it, yeah, her sister Betty will do..."
Source: 12bar Blues Guitar


Solo Licks 10 and 11 - 12bar Blues Guitar

Solo Licks 10 and 11 - 12bar Blues Guitar
Adder:
Bill Charrette [ willc ]
Date:
1/28/2013
Tab By:
willc
Rated:

(4)

Hot!

Popular!

Views:
445
pdf Hits:
301
Genre:
Licks

|